When I caught my first glimpse of Porto, crossing a bridge high over the west end of town, it felt like we were entering a fairy tale. Two hillsides face each other across a wide river; on either side, narrow streets and alleys wind haphazardly between red-roofed homes, port lodges, and ancient cathedrals. Joining the riverbanks is a bridge designed by an admirer of Gustav Eiffel, and its graceful lines complete the picture of an idyllic dream city.
I had high hopes for Porto. The first impression didn't disappoint and the longer we were there, the more I liked it. Morning dawned grey and mysterious, with mist obscuring the far riverbank until the warm Portuguese sun burned off the clouds and gave us a beautiful blue-sky day. We wandered up and down hills and into several different port lodges, so that by late afternoon, the day took on a hazy quality that persists in my memory.
We didn't do much real "sightseeing" in Porto; instead we explored, stopped in at places that caught our interest, and sipped port to our heart's content.
Tasting Port in Porto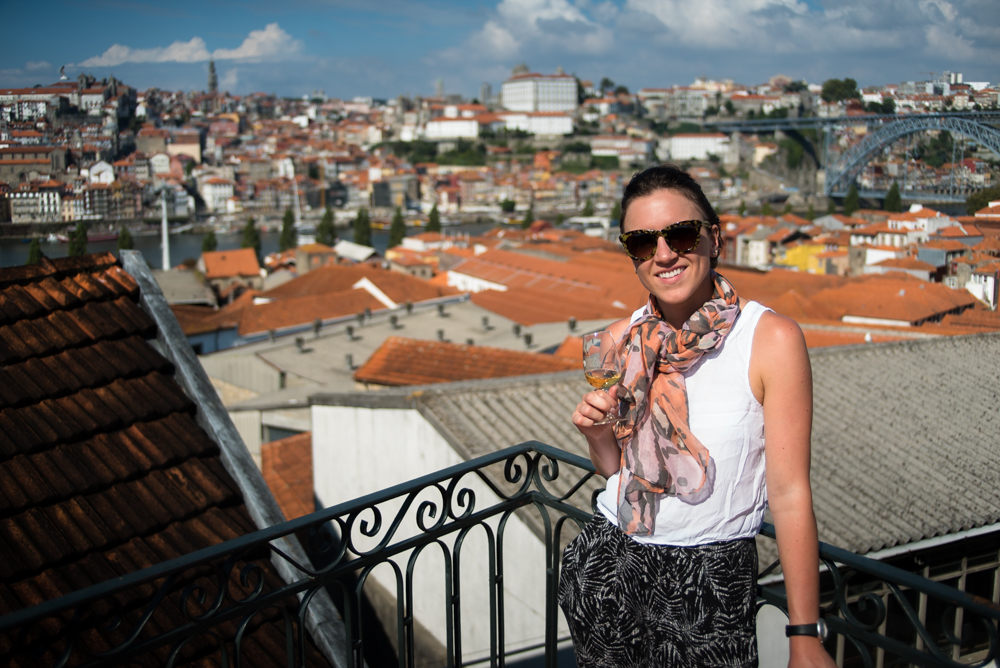 If you want to try port here, you're in luck. Porto is the historic home of port wine, and to this day, all the port in the world is aged across the river in Vila Nova de Gaia, with most of the grapes grown up the Douro River, and pressed at the winery into juice. That is aged for about a year onsite, and then the resulting port is brought to Gaia to age further, before being shipped all over the world.
Sandeman's Port Lodge
Sandeman's is like the Coors or Budweiser of port. They have a massive (very corporate-feeling) operation in Porto, with frequent tours of the facility. The tours were all booked the day of our visit, but they have an interesting exhibit you can visit for free, explaining the history of the port industry, with artifacts, photos, even old Sandeman's ads dating back to the early 20th century. After getting our history fix, we took a seat on the patio for a tasting of their three most popular ports (€6), which was a great introduction for a couple of port first-timers like us.
Taylor's Port Lodge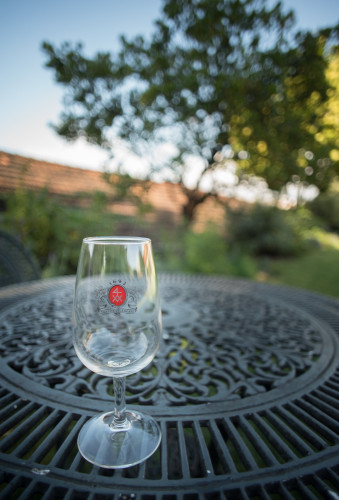 After dipping our toes into the world of port with Sandeman's, we were ready to jump into the more sophisticated scene at Taylor's. They have a really beautiful old tasting room surrounded by classical gardens, befitting their English heritage. They have a range of options when it comes to tasting, from the default tasting you get with the €10 tour all the way up to a €25 tasting for the special 40-year vintage that had recently reached an appropriate age for drinking. We opted for the first, which I highly recommend. We arrived about thirty minutes before the tour, paid for our tour and received a white port to sip on while we wandered the garden before the tour started. Eventually we joined a crowd of about twenty tourists and were led through the barrels while our guide explained the history of Taylor's and the aging process. The tour ended with a taste of their Tawny and Ruby ports.
For the record, the white port is my favorite (except for an unbelievably delicious hundred-plus-year-old port, but that's another story).
Sightseeing in Porto
The Portuguese Museum of Photography
More than any other place, the exhibits here gave us a real sense of Portuguese society throughout the last century, and the impact of the recent recession on everyday Portuguese people. Art has a way of doing that, I guess. Whether you have an interest in old cameras and photography, or you just need a rainy day activity, this place is truly worth a visit. In case you're not convinced, it's free! So you can always stop in and see if the current exhibits interest you without worrying about entry fees.
Ponte Luiz 1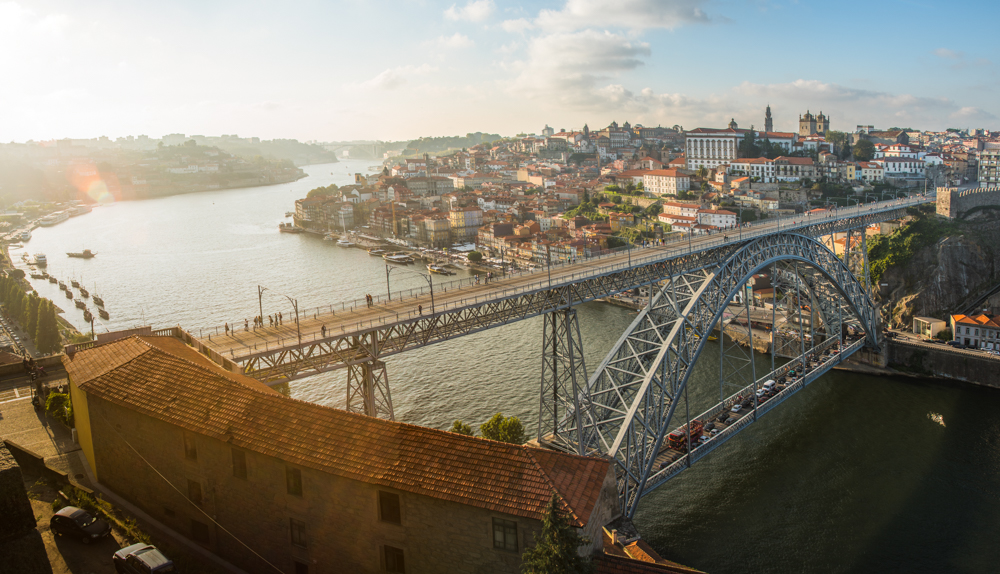 Overlooking the magical Ponte Luiz 1 is a miradouro with the best sunset views in Porto. It's right in front of the convent (and if you really need to use the restroom, ask the security guards at the convent museum nicely and they'll let you use theirs).

Porto's Majestic Cafe
This place is all too aware of its historical status and tourist appeal, and the prices (and waitresses' attitudes) reflect that. Still, it's a nice place to drop in for a coffee and pastry, just so you can admire the grand ceiling. People drank coffee in style back in the old days.
This place was absolutely amazing, and I highly recommend it to any and all Porto visitors. From the complimentary bottle of port upon arrival to the unbelievable balcony views, we loved everything about it. There was a map in our room of the owner's favorite places to eat and hang out all over town. If you decide to stay here, book the Balcony room for the best views and the biggest balcony.