We went to Chicago for one reason: it has the cheapest tickets to Hamilton. Ben and I talked a few times last year about flying out there for a weekend just to see it. Why not, right? For the price of just the show tickets in New York, we could afford the Chicago version's tickets plus airfare. Plus, Ben had never been to Chicago, and I had only dropped in for a day while I was doing college visits.

So, on Christmas Day, we pulled the trigger and bought our tickets (and airfare, and booked a hotel room). We both were pleasantly surprised by how much we enjoyed the city…even in the dead of winter, when most people say you'd have to be crazy to visit the Windy City.
Our hotel: The Chicago Athletic Association
Previously a private men's club, this boutique hotel is dripping with style. We were able to treat ourselves to a stay here because I had a deal on Booking.com. It was definitely outside our usual budget, and it's clear what you get for the added expense. The lobby itself is framed by gigantic fireplaces, and in between is one of the most gorgeous lounge areas I've seen in a hotel. We picked up coffees to-go from a speakeasy that was tucked behind the check-in desk. Behind that was a game room with bocce ball, darts, shuffleboard, and pool. In the very back of the main level was a swank dining room and bar called the Cherry Circle Room, where we were treated to a welcome champagne toast. Up on the roof, we enjoyed drinks at Cindy's, a gorgeous enclosed space with views of Millenium Park. "The Bean," formally known as the Cloud Gate Sculpture, is right outside the hotel. While our room was small and suffered a serious lack of natural light, it was comfortable and stylish, and the bathroom was so nice. If we had stayed during the summer, we could have taken advantage of free bike rentals and guided group runs along Lake Michigan. All the more reason to come back and splurge again!
The Loop, the Magnificent Mile, and Willis Tower
I knew Chicago was a big city, but walking around on the day we arrived I learned just how big. We were literally surrounded by skyscrapers of every shape and description. My favorite was the Carbon and Carbide Building, a beautiful Art Deco building that looked green in the sunlight, with a genuine 24k gold spire on the top. It was like jewelry on the grandest scale imaginable.
We wandered down by the frozen Chicago River, and out to the Navy Pier, abandoned as I'm sure it usually is on winter days. We stopped for a donut at Stan's and got hot dogs at Portillo's. This area of town is full of tourists, so we steered into it and did touristy things.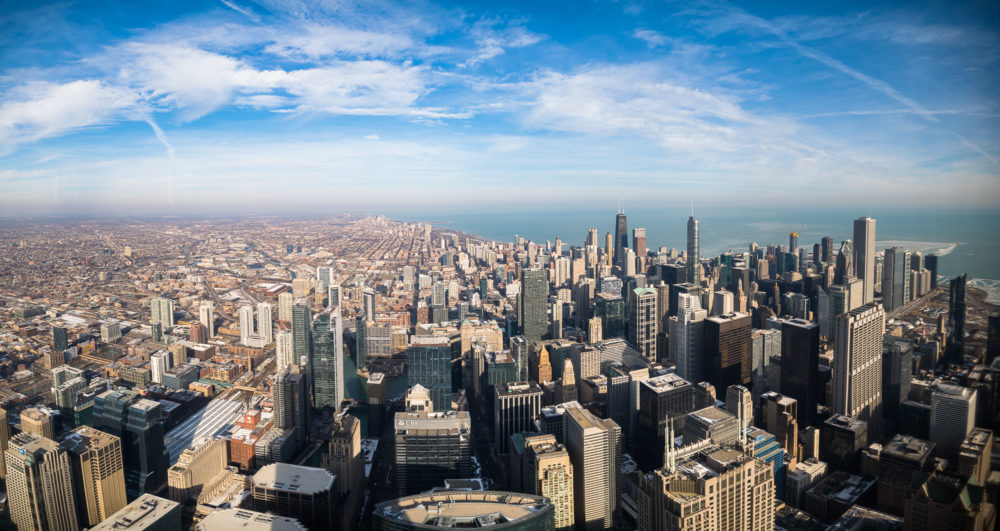 The most touristy thing we did all weekend was go to the top of the Willis Tower (aka the Sears Tower). Even showing up first thing on Saturday morning with fast passes, we waited in line for 40 minutes. The views were, of course, exceptional. I enjoyed The Ledge—the window box suspended on the side of the building, where only glass separates you from a 110-story drop. Of course, they make you pay for the photos they take of you sitting out there in midair, but surprisingly you're allowed to take as many selfies as you want.
The Show: Hamilton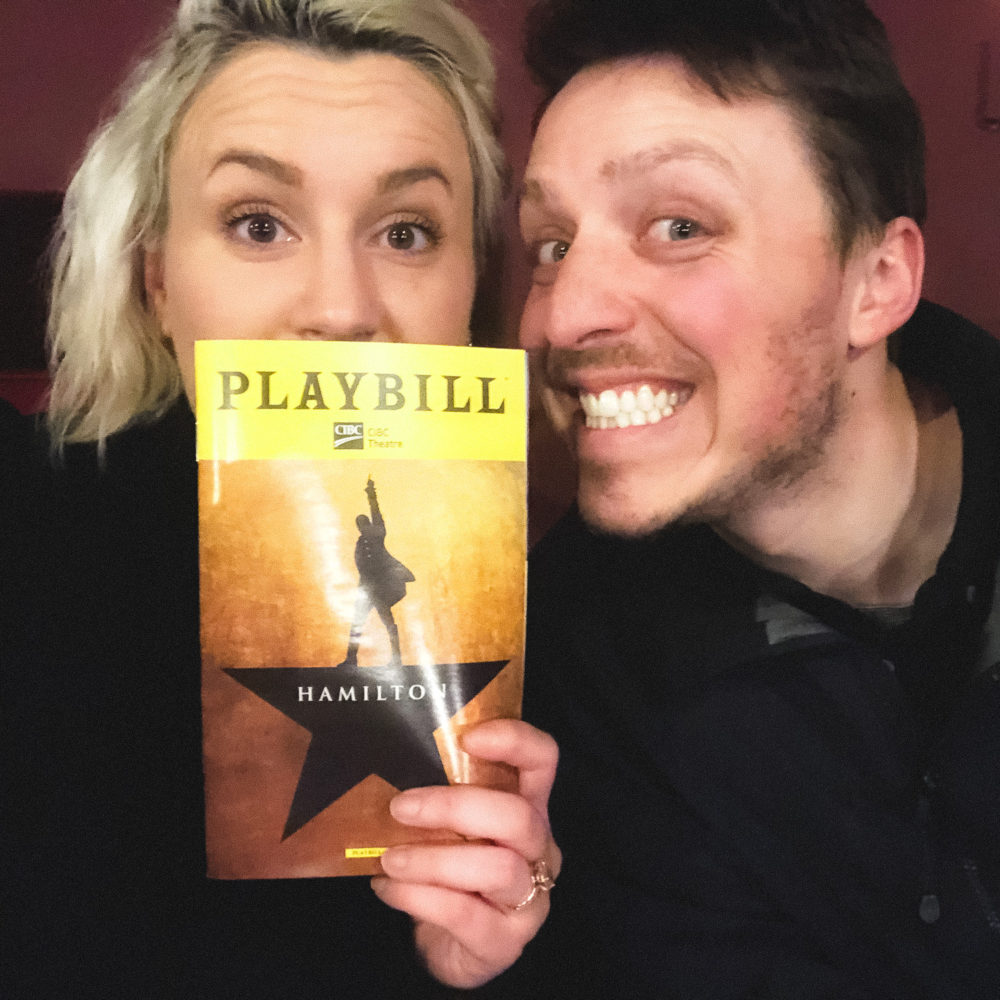 What can I say? I had sky-high expectations, and this show surpassed them. I've listened to the soundtrack countless times, and I was still spellbound, on the edge of my seat. Little moments that didn't make it on to the recording took me by surprise, even blew me away. I laughed, I clapped, I left with a lump in my throat and tears in my eyes. Go see this show. Do it. You will absolutely not regret it.
Before the show, we had a casual and relaxing dinner at the Revival Food Hall, essentially a very chic take on a mall food court. We were so excited to get to the show that we showed up for dinner really early and had plenty of time to enjoy it. Thus we lingered over grilled cheese sandwiches and drinks, then hopped down two booths for a brownie and an espresso.
The Chicago Athletic Association is basically around the corner from the theater, so its swanky bars are perfectly located for an after-show drink.
Wicker Park
We spent half of Saturday puttering around Wicker Park on the recommendation of a friend. She mentioned multiple taco places on the same street, so that pretty much sealed the deal. We chose Big Star and didn't regret it—especially because of the queso fundido. If there's queso fundido on the menu, forget it. I'm sold.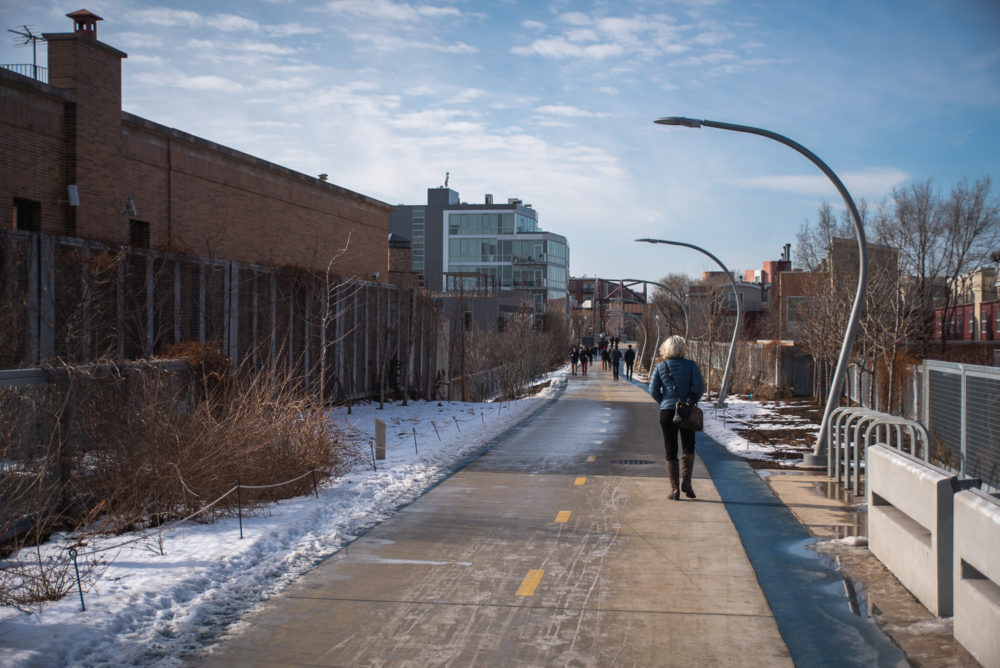 Of course, after eating an entire dish of melted cheese, we needed some exercise and fresh air. Luckily, Chicago's answer to the High Line runs right through Wicker Park. The 606, or Bloomingdale Line, was an elevated railway until the 1990s but now, it's a green space, bike path, and outdoor art exhibit that runs for nearly three miles. Thanks to the sunshine, the path was busy with joggers, strollers, dog walkers, and groups of friends out for a walk. It was excellent people-watching, and the views of Chicago's skyline certainly didn't hurt.
Museum Campus
We knew even before we arrived in Chicago that Sunday was going to be dismal, weather-wise, so we set it aside for museums. Chicago's Museum Campus is home to the Field Museum (natural history), Shedd Aquarium, Adler Planetarium, and Soldier Field—I guess if the educational sites get to be a bit much, you can indulge your inner jock with a Bears game.
Since it was just over a mile from our hotel, we walked there through Grant Park. Thick fog was rolling in from Lake Michigan and the park was nearly abandoned—it felt like a scene from the apocalypse. Needless to say, I was happy to arrive at the Field Museum. We wandered a few of the exhibits—I loved the gems—and took approximately a million photos of Sue, the famous T. Rex that lives in the atrium.
Eventually we wandered over to the Shedd Aquarium, with a stop at the hot dog cart on the way (did you know that vegetarian hot dogs are actually delicious?). Ben and I both tend to roll our eyes at aquariums—it seems like people always recommend aquariums as a thing to do, even in landlocked cities like Atlanta—but this one stole a place in my heart. It's all thanks to the beluga whales. I could have watched them all day. They are irresistibly cute, they always look like they're smiling, and one of them kept poking her head out of the water to say hi! HOW AM I SUPPOSED TO WALK AWAY FROM THIS?!
Eventually, I did say goodbye to the belugas, because Ben and I had a plane to catch. I'm sure we'll be back though—we need to see Chicago in the summer, after all.
Chicago CityPASS: Is it worth it?
In short, yes. We used our CityPass at the Willis Tower, Field Museum, Art Institute, and Shedd Aquarium, and we could have also visited the Museum of Science and Industry or Hancock Tower. Visiting all five attractions (with priority entry or a fast pass, which the CityPASS includes) costs over $200 per adult—more than double the cost of CityPASS. If you're not a museum-goer, then you can skip it, but if you're interested in going to at least three of the included attractions, it is definitely worth it.