Beautiful Lisbon feels like a European dream—picturesque ruins tumble down next to majestic state buildings; young locals pick up cocktails and stroll along the riverbank at sundown; twisting, abandoned alleyways lead to packed nightclubs. There was no place more romantic that we could have spent the first few days of our honeymoon.
We were attracted to Portugal for our honeymoon because of its reputation as a less expensive, less touristy remnant of Europe's history and culture, and we weren't disappointed. Sometimes, it felt like we had stumbled into the Italy of the 1950s, before it was developed into an Americanized, Disney-fied memorial to ancient Rome. Lisbon is dotted with the stately memorials, fountains and squares that you would expect from a major European city, but just down the street you'll find hundred-year-old apartment buildings that have been allowed to fall into ruin; greenery sprouting from their windows and elaborate graffiti murals lining their walls. We stayed near the Alfama neighborhood, the only area of Lisbon that wasn't destroyed in an eighteenth-century earthquakethat claimed most of the city.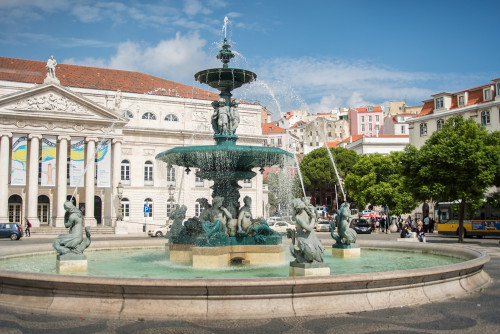 Falling in love with the Alfama
Imagine if a medieval European city and an old Moroccan village had a baby; that's the nearest I can come to describing the Alfama. It begins next to the banks of the Rio Tejo and climbs upward, through meandering alleys and stairwells. At the top of the hill is an ancient palace defended by a thick stone wall; it looks as if it hasn't changed in 500 years, and the sounds of guitar music and merchants hawking their wares contribute to the feeling that you've stepped back in time. As you explore the winding streets, you'll happen upon ivy-covered cafés and fado clubs, where you can listen to traditional Lisboan ballads that have been sung throughout the city's long history. We spent afternoons and evenings exploring this area and could have kept coming back for more; it's just that charming.
Learning Lisbon's history at Belém
Belém is historically the home of Portuguese royalty; now it plays home to hordes of tourists from all over the world, come to see the Jeronimos monastery. Despite the crowds, the monastery is a worthy destination, if only for the architecture, which is a perfect combination of Moorish and European grandeur.
When you've tired of the religious atmosphere, you can head over to the White Tower. Formerly a prison, this beautiful square building was the first thing sailors would have seen upon arriving in Lisbon. For prisoners of the Portuguese state, it was often the last place they called home. You can explore cells from the bottom to the top of the tower; the roof has great views back toward the city, especially of the San Francisco-style 25 de Abril suspension bridge.
If you walk back toward Lisbon along the riverfront, you'll reach the Monument to the Discoveries, where you can get a feel for the pride Portugal felt during its colonial heyday. This country was once the star of Europe when it came to circumnavigating the globe and colonizing wild lands.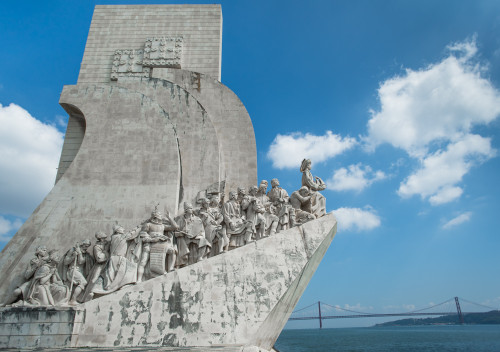 No trip out to Belém would be complete without a stop at Pasteís de Belém to buy their namesake pastry (personally, my favorite pasteís were found back in the city at A Brasileira, see below). Lines snake out the door at all hours of the day and you'll have to dodge outstretched arms and selfie sticks, because #picsoritdidnthappen, of course.
Lisbon's Miradouros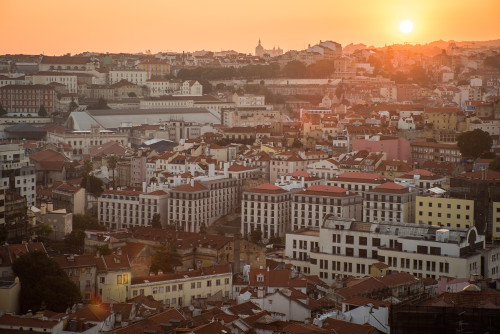 Our favorite places in Lisbon were the numerous and lovely miradouros, or viewpoints. They all have wonderful views, but the best ones also have pop-up bars. There is nothing better in all the world than a caipirinha at sunset with all of Lisbon stretched out before your feet.
Our favorite eats, drinks and shops in Lisbon
Taberna Moderna
Gin is hugely popular in Portugal, and you can try all kinds at this place, which does double duty as a gin bar and tapas restaurant. It was one of the best meals we had in Portugal, and our waiter had the bartender custom-make our gin cocktails according to our preferences. You will definitely need a reservation here; we came on the recommendation of Hugo, the owner of the apartment we rented, but it was also written up in Time Out Lisbon as one of the city's best places to eat and drink so it's always crowded.
A Brasileira
This was one of our first stops on our first day in Portugal; I had to try the pasteís de nata, a hugely popular Portuguese pastry. We had a couple of pasteís with um bico, or a shot of espresso, for about €7. Cheap and delicious. I was so enamored with this place that we came back on the last night of our honeymoon. They were by far the best pasteís we had on the trip.
A Vida Portuguesa
Written up in every guidebook and beloved by many, this is the place to come for unique, thoughtful gifts for your loved ones back home. They have handmade toiletries, jewelry, kitchen goods and décor, all made in Portugal. There is a little art shop across the street that is also worth stopping in; they have prints for all budgets and the owner makes some really interesting art that he'll be happy to show you.
Lisbon is a comfortable destination for American (or British, or Canadian) tourists, given that many locals speak English, signs are often in English, and the city has been developed enough to feel like the extension of Europe that it really is. However, it lacks the huge American/tourist/developed presence that makes cities like Paris and Rome feel like an extension of Epcot. We found it a perfect middle ground; honeymooning in Lisbon was the kind of place where you plan to spend a couple days and hope to come back for many more.