So there it is. Everything that we will be bringing with us on our Round-the-World adventure, starting tonight. We've been working on our bags for a little over a month now, making small adjustments here and there, tossing stuff out that we FINALLY deemed unnecessary, remembering that last little thing that we could not live without. Moving out of our house in Carbondale and into my parent's house for a couple weeks helped us downsize, given that we have only my childhood bedroom as a storage unit. Reading travel blog suggestions of "pack everything and then cut half of it out" sounded outlandish and extreme a month ago, but of course by today seem totally reasonable, even generous. Jenna is still making fun of me for my ridiculous amounts of camera gear, and I am sure we'll be downsizing a lot more as we get used to living out of backpacks, but for now we feel confident that we have what we need and not too much more.
The question we get most often, after "where are you going to go?" is "how on earth do you pack for a full year?" Below is a full list of everything that we are bringing with us. Once we've been traveling for a while, we'll do an updated list to see what was really necessary and, I'm sure, laugh at our naïve assumptions.
Jenna's RTW Packing List for Women:
Osprey Waypoint 60 travel backpack
Kelly Moore Songbird messenger bag with camera and laptop storage
REI Stuff Travel Daypack (this packs down to nothing and can be used for hiking, going to the market, etc)
Eagle Creek Pack-It Tube Cube (for cords, headlamp, small miscellaneous items)
Scarf (a large one that can double as a sarong, towel, or blanket)
Ziploc with passport, photocopies, passport photos (necessary for visa in some countries), important papers
Travel journal
Sunglasses
Eye mask/earplugs
Large and small toiletry bags (toothbrush, toothpaste, mascara, eyeliner, deodorant, Lush solid shampoo, Body Glide anti-chafing cream, razor, coconut oil, sunscreen, perfume)
Three bras
Black Diamond Revolt headlamp with rechargeable batteries
Poncho
First Aid kit with prescriptions for Cipro, Vicodin, Malarone, etc.
Facial cleansing wipes
Two bikinis
Travel towel–a camp towel from REI is perfect for traveling as it packs small and dries almost immediately
ExOfficio Storm Logic Synthetic Insulated Jacket, Melanzana Micro-Grid Hoodie, Outdoor Research Helium Hybrid Rain Jacket
Tieks foldable flats with arch support inserts
Five pairs of socks
One long sleeve shirt, one running tank with built-in bra, two tank tops, two short-sleeve tops
One skort, one skirt, one pair of regular shorts, one pair of gym shorts, one pair of leggings, one pair of Prana zip-off convertible pants
Running shoes
Apple Macbook Air
One black dress
iPhone in Lifeproof case
portable hard drive
Ben's RTW Packing List for Men
Osprey Farpoint 70 Pack
Thule Covert Messenger Camera Bag
La Sportiva Wildcat 3.0 Trail Running Shoes, Sanuk Pick Pocket Shoes, Chacos Z/1 Unaweep Sandals
Wet Wipes, REI XL Camp Towel, REI Medium Camp Towel
Travel Sewing Kit
First Aid Kit
Scrubba Travel Laundry Sack
5 Pairs of travel underwear by Exofficio and Icebreaker
REI Flash 18 Pack, Steripen Adventurer, CR123 Batteries for Steripen, Sea-to-Summit 8L Drysack, Nathan 1.5L hydration pack, 32oz Nalgene water bottle, Compressible 12oz water bottle
9 pairs of socks; 1 pair compression socks, 2 pairs Fits Wool socks, 3 pairs Smartwool Wool Socks, 2 pairs Melanzana Wool Socks, 1 pair Iniji toe socks
5 short sleeve shirts; 2 quick-dry synthetic shirts (Mountain Hardwear and Patagonia), 1 Smartwool t-shirt, 1 Icebreaker button down t-shirt, 1 Horny Toad cotton button down t-shirt
1 Long sleeve Patagonia Capilene 1 shirt
1 Long Sleeve Cotton-On Button down shirt
ExOfficio Storm Logic Synthetic insulated Jacket, Patagonia Houdini Rain Jacket, Travel Rain Poncho, Melanzana Micro-Grid Hoodie
Sea-to-Summit Silk Traveler sleep sack
Prana Stretch Zion Convertible Pants, Prana Stretch Zion Pants, Cotton casual shorts
Prana Mojo Shorts, Marmot Mobility Shorts
RFD protected slim wallet
Patagonia Trucker Hat
Native Bomber Sunglasses
Ethiopian Airlines Eye Shade, Foam Ear plugs
Lowepro Top-Loader Zoom 50 AW Camera Pack
13″ Macbook Pro and Power cord
Travel Medications (Cipro, Malarone, Zofran), Dayquil and Nyquil Gel tabs, Tide-to-go pen, Sleep Aid Pills, Ben's 30% Deet Bug Repellent, 30 SPF Sunscreen, Body Glide, Blistex Blister cream, Old Spice Deodorant, Pronamel Toothpaste, Travel Toothbrush, Quart size clear travel bag
Seagate Backup Plus 2TB Portable USB 3.0 Hard drives
Weatherproof Journal
Black Diamond Revolt Headlamp and charge cable
Apple iPhone 5 in Otterbox Commuter Case and Lightning charging cable
Mophie USB Battery pack, Belkin SurgePlus 3-Outlet Mini Travel Swivel Charger Surge Protector with Dual USB Ports (2.1 AMP / 10 Watt), FosPower FUSE World-Wide Universal Power Adapter, Micro USB Cable, Mini USB Cable, Garmin Forerunner 210 GPS watch and charging cable
GoPro Hero 2 in waterproof case with 16GB SD Card; with tripod mount, dual strap mount, small handheld camera mount
ThinkTank SD Pixel Pocket Wallet (2 64GB SD Cards, 4 32GB SD Cards, 2 16GB SD Cards)
3 Sony NP-FW50 batteries, 1 charger
Canon FD 28mm f/2.8 lens
Canon FD 135mm f/2.5 lens
Canon FD 35-105 f/3.5 lens
Canon FD 50mm f/1.4 lens
Sony A7s Mirrorless, Full-Frame digital Camera with Canon FD 20mm f/2.8 lens via Metabones FD to E-Mount Adapter
Tiffen 77mm Polarizing Filter
Tiffen 77mm Variable Neutral Density Filter
Canon G16 Digital Camera, battery, and charger (backup/light and fast camera) and REI carrying case
Stuck to everything: dog hair to remind us of Copper Boots while we are gone 🙂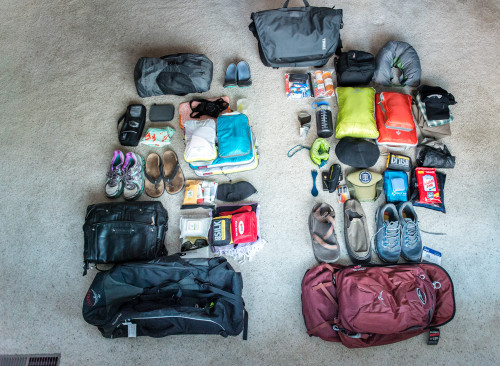 Once we laid everything out and double checked it, we moved as much as we could into packing cubes and cases, which will help keep everything organized. Then, it was just a matter of putting each cube into our packs!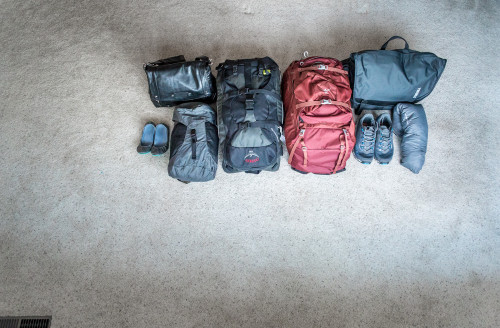 There they are–our lives packed up into two bags each (sometimes three if we use our extra packs). I get bursts of panic thinking I forgot something, before remembering I packed it (and repacked it and repacked it). Check back for updates to see what we loved, what we left behind, and what we can't live without as we travel on!
FYI: Nobody is compensating us for mentioning their products and all opinions are our own; Bellroy generously provided us with wallets, but other than that we paid for everything you see above!