Mmmm, Seyðisfjörður. Of all the beautiful spots we stumbled into across Iceland, this sleepy village is the place I dream of going back to. It was so quiet and the streets were so empty that I sometimes felt like we had wandered onto an abandoned film set. We saw hardly anybody during our one day in town; even the owner of the hostel checked us in over the phone–we never saw her in person.
It wasn't just the sense of peace and seclusion that has me yearning to return to Seydisfjordur. It's mainly this view.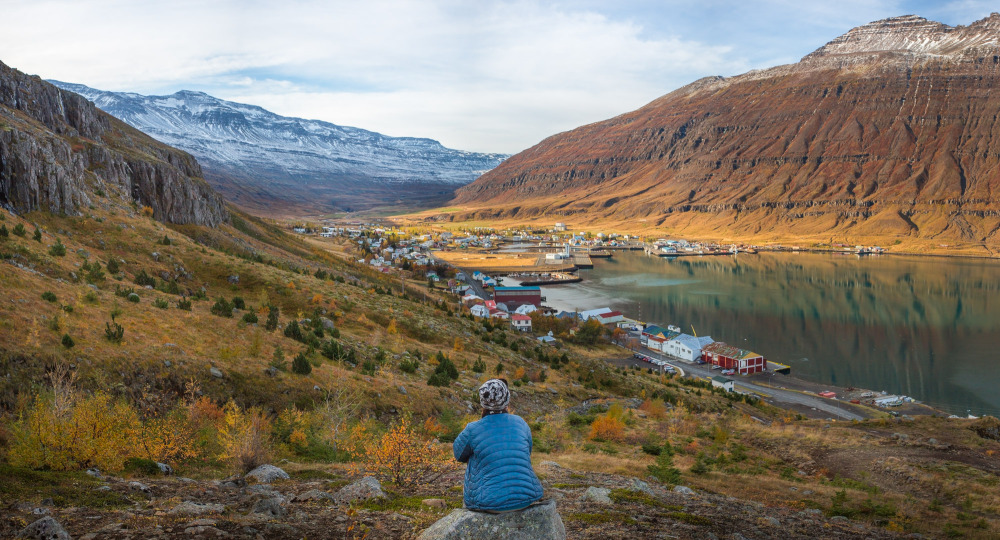 Seyðisfjörður, heart of Iceland's Eastfjords
I think we ended up in Seyðisfjörður because we knew we wouldn't have time for the Westfjords, and the Eastfjords seemed like a fitting alternative. Seyðisfjörður is about a half hour's detour off the Ring Road, so it's easy to get to for a place that to me, felt a bit like the end of the earth. It's at the inner tip of a long fjord, ringed in by mountains, and you will have to drive over a mountain pass to get there–unless you're coming by boat! The only ferry between mainland Europe and Iceland runs from Copenhagen to Seyðisfjörður (with a stop in the Faroe islands); it's on my bucket list, but tickets for the ferry are crazy expensive–€217 for a bunk in a shared dorm? I don't think so!
Seyðisfjörður is so tiny (pop. 700) that during the off season, local businesses will only open on days when the ferry is arriving or departing! Luckily, we rolled into town on a departure day and took advantage of the local cafe being open; plus we got to watch the ferry pulling out of the harbor from our windows at the hostel.
What to do in Seyðisfjörður…and where to eat
Hiking
If you like waterfalls, follow any of the trails leading west out of town–the Fjardara River goes over 25 waterfalls on its way down the mountain to Seyðisfjörður. You can also catch a trail on the eastern edge of town, across the street from the Brimberg fish factory, that passes a couple waterfalls and leads to the Tsivongur Sound Sculpture. You can also hike up and over the mountains to neighboring fjords, although that can take up to 7 hours.
Skaftfell Center for Visual Art and Bistro
As the sun went down on our day in Seyðisfjörður, we realized that we needed to eat something and our options were limited. We had no food on hand, there was no grocery store in town…luckily the Skaftfell Bistro was open. Upstairs is a beautiful, modern art gallery where you can while away some time waiting for your food. Downstairs is a coffee shop/pizza place/bar full of art, books, games and free wifi. It's cozy and welcoming and exactly the kind of place I would have spent all my free time in high school and college. We hung out for awhile enjoying pizza and beer.
Where to stay in Seyðisfjörður
Post-Hostel
Lodging options in tiny Seyðisfjörður were limited in October, but we were happy to land at Post-Hostel, a comfortable hostel located in the former Seyðisfjörður post office. Given the fact that we were the only tourists in town when we arrived, we had our choice of the eight rooms (four face the fjord and the other four have a view of the waterfall out back). We chose two across the hall from each other so we could enjoy both views. Our beds were so comfortable and the wifi was great. Late in the evening, some Germans arrived and we could clearly hear them out in the hall, but once they were in their rooms it was nice and quiet.
Lónsleira Apartments
We didn't stay here personally, but Ben's parents did on their trip to Seyðisfjörður in August, 2014. These are brand new apartment rentals (so new that when we were in Seyðisfjörður in October of 2013, they were still under construction!). They are across the street from the Post-Hostel and the ferry dock and they worked well for a group of five. Ben's folks said they were clean, spacious, and the location was great. If you are looking for a more private alternative to the Post-Hostel, these just might be it.
Any lodging in Seyðisfjörður itself will be close enough to walk to anything listed in this post. The town is quaint and beautiful. Walking around became an added bonus of spending time there.
Our kitty friend, Leifa:
This little cat followed us around all over town! I miss her 🙂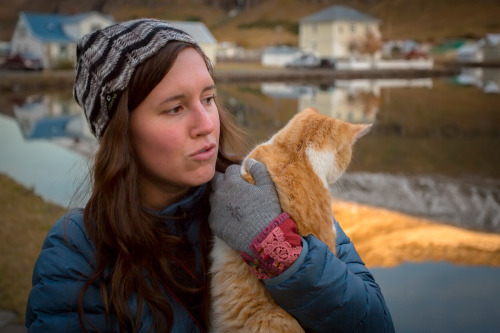 One day, we'll return to this heavenly fishing hamlet, but until then, my memories of this special place will have to suffice. From the mountains, the rivers, the waterfalls, the trails, everything about Seyðisfjörður was amazing. Even the playgrounds had us feeling like kids again!
Have you ever been to Seyðisfjörður? What was your favorite part? Or where would go back to in a heartbeat if you had the chance?