Almost every day we spent in Iceland was sunny and beautiful, or at least dry, despite the fact that we were within spitting distance of the Arctic Circle in October. Our day in Myvatn was the exception.
This was my least favorite place in Iceland and to be honest, the weather had little to do with it. Myvatn's got a reputation as northern Iceland's must-see destination, and for that reason, it was the one and only spot in Iceland where we ran into tour buses. Thanks to the late time of year, there were no such crowds at Iceland's other famous tourist traps (Jokulsarlón, Skogafoss), but everywhere we went in Myvatn, there was a bus dumping high schoolers or middle-aged Europeans out into the snow. It felt like a very cold Yellowstone.
Here's the thing, though: "least favorite place in Iceland" still ranks pretty highly on the list of cool places I've been. If you've never been to Yellowstone, or you have a day to kill in Iceland's far north, Myvatn will be worth your time. While it doesn't have the jaw-dropping landscapes of other Icelandic locales, there are volcanoes, bubbling mud pots, and a crazy trench where it looks like the earth is splitting in half.
Once we sucked it up and stepped out of our car into the blizzard, here's how we spent our day in Myvatn:
Hiking around Krafla
Krafla is a huge volcanic caldera northeast of Myvatn. There are several trails in the area; shortly after we arrived at one trailhead we were followed by a group of German high-schoolers who were pelting snowballs in all directions, so we left. A short walk from the parking lot at nearby Víti gives you this view, and this spot was far less crowded for us. There are signs all over for the different attractions in this area; you just drive up a hill past a big geothermal plant and you should be able to find your way around.
Mud pots and fumaroles at Hverir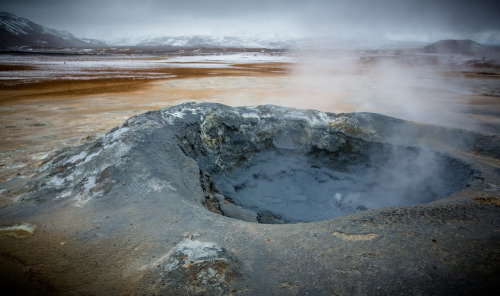 You'll probably never get this spot to yourself, given the fact that it was absolutely crawling with tourists in the middle of a blizzard the day we were there. Hverir is a field of fumaroles (holes in the earth's crust, where steam and gases escape) and boiling mud pots. The whole field was full of steam and mud; it had a very mystical, volatile aura. This particular spot felt the most like Yellowstone; it is also extremely muddy, so just be aware of that.
Standing on the brink at Hverfjall
Hiking to the crater at Hverfjall is one of the coolest things to do in Myvatn. The physical effort it takes to get up there will weed out most of the crowd, so you may get a few moments of peace while you stare down into the almost perfectly-round crater (no guarantees, though). The sight of black rocks stretching into the mist and snow is not something I'll soon forget (see the top picture).
 Searching for Myvatn's imaginary hot springs and stumbling upon Grjotagja
We got an "insider tip" about some hot springs that only locals know about, but it turned out to be a wild goose chase–we spent about an hour poking around the lava fields near Myvatn, occasionally coming across water-filled crevasses that were always just a little too hot to bathe in. That's how we came across Grjotagja, a watery cave that was once popular for bathing until volcanic activity heated the water too much. It was still an amazing spot to take some pictures.
Vogafjós Cowshed Cafe
It's not often that you get to share a dining room with dairy cows. Okay, so there's a glass wall separating you from the actual cows at the Cowshed Cafe, but other than that, you are pretty much staring each other down while you eat your respective meals of hay and lamb stew. They're pretty cute, and it's interesting to see the milking machines in action around dinnertime. Also, the hearty Icelandic fare was welcome after a day trudging through the snow.
While it may have been crowded with tourists for half the day and a near whiteout blizzard from dawn until dusk, Myvatn was still a pretty cool place. Thanks to the fumaroles, bubbling mud, volcanoes and boiling hot springs, in Myvatn you're constantly reminded that only the earth's thin crust separates you from a ball of deadly magma. There aren't many places in the world where you can feel so close to the earth's core. It's hard to complain when you're in Iceland!