Southern Iceland is incredible. If pictures lured you to this North Atlantic country, it's likely that most of the were taken on this stretch of the Ring Road. For folks looking to do a shorter trip, or to focus on one area in particular instead of driving around the entire country, this section should be on the top of your list. Here are some tips for where to stay and what to do:
Make Höfn your homebase

"Höfn," aka "Hup." At least, I think that's how you pronounce it. That's how we pronounced it, as often as we possibly could, during the second half of our Iceland Road Trip. Lonely Planet describes it as inhaling and hiccuping at the same time…so make of that what you will.
Truthfully, we only ventured into Höfn to buy some groceries and eat dinner. But it's the center of southeast Iceland and it makes a good home base for nearby attractions like Skaftafell, Vatnajökull National Park and Jökulsárlón, the famous iceberg lagoon.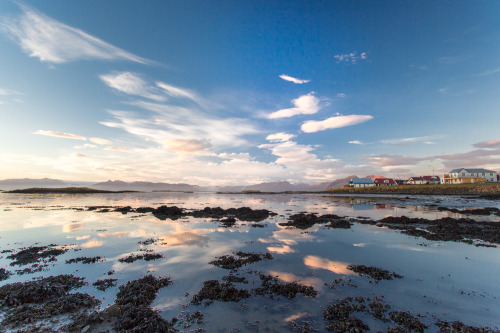 Where to stay near Jökulsárlón
Guesthouse Ger∂i
The four of us shared a basic, somewhat cramped, but comfortable room at Guesthouse Ger∂i. There was a dated kitchen next door and a herd of sheep that briefly laid claim to our doorstep, so you can expect typical Icelandic amenities here. The views out to sea and of the cliffs out back are great, and there is a restaurant in the museum nearby.
Jökulsárlón
A lot has already been said about this stunning location, and it's basically all true. Yes, there are tourists everywhere. Yes, they'll be there at all hours of the day (and night–gotta get those Northern Lights shots!). And yes, it's one of the most worthwhile tourist traps in the world. There are other glacial lagoons in the area; if you have time, you should check them out for a chance to get the icebergs all to yourself. But if you're pressed for time in southern Iceland, Jökulsárlón is a must-see.

Day hiking in Skaftafell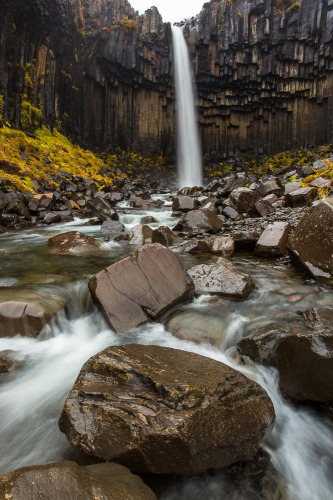 Skaftafell is part of Vantajökull National Park and you could easily explore this area for days. Luckily, some of the most worthwhile hiking is within a few miles of the parking lot.
Svartifoss
Following the signs out of the visitor center for Svartifoss, you'll follow a path past the campgrounds and eventually uphill into the woods. Before long, you'll be ambling alongside a little stream and the further up you go, the more waterfalls you'll pass. Keep an eye out…you might spot a little turf-roof cottage next to the water.
The trail seems to dead-end at one of Iceland's most iconic sights, Svartifoss or the Black Waterfall.
If you cross the stream just below the waterfall, the trail continues on the other side. It ends up on top of a plateau, with huge views over the sandur (stretches of black sand that go on for miles) and back to the mountains. There are trails criss-crossing the plateau in all directions and it seems like you could walk forever!
Icelandic Turf Houses at Skaftafell
The historic Sel farm at Skaftafell is an awesome, well-preserved turf house that you can let yourself into and explore. The trail/road that you follow past the campgrounds continues past the turnoff for Svartifoss and eventually ends up at Sel. This was a truly great way to see what life was like in this once-remote corner of Iceland–the Ring Road didn't connect southeast Iceland to Reykjavik until the 1970s. That meant if you needed to get from the Skaftafell area to Reykjavik (today only a four-hour drive), you would have to drive all the way around Iceland (that's twelve hours in the car)! The house and barn at Sel are basically connected; if you venture into the stable, here's a word for the wise: watch your head on the way out. Those doorways are loooooow. Ouch.
Skogafoss
A lot of Icelandic attractions are really easy to get to from the Ring Road, but Skogafoss takes the cake. It's basically on the Ring Road. You just turn off into the parking area, get out of your car, and walk into the mist; don't forget to channel Thor on your way. This is one of many spots in Iceland that's been featured in a blockbuster film recently; Skogafoss stars briefly in Thor: The Dark World.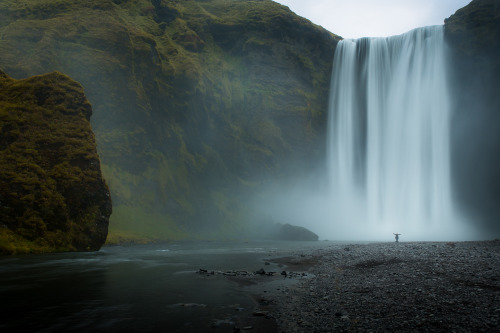 Vík
Vík is a tiny little town with the biggest gift shop we saw in Iceland. We stopped in toward the end of our trip and bought a ton of souvenirs to bring home for our families. The gift shop conveniently shares a parking lot with the town gas station, but that's not all Vík has to offer. There's a black sand beach, and stone arches that rise out of the surf towards emerald green cliffs. Like every other city, town and village in Iceland, it's a stunning place.
If you only have a few days to explore Iceland, exploring the southern coast is a great choice. Landscapes range from desolate beaches to mossy green meadows to smoldering volcanoes to icy glaciers. It's a great microcosm of Iceland as a whole.