The best thing about Iceland is just how damn beautiful it is, everywhere you go. And yes, all those guidebook destinations like Jökulsárlón, Myváyn and the Golden Circle will be stunning, but the in-between moments, the locations that feel like local secrets, the roadside views–those are the things that will leave you speechless in Iceland. And these moments are lurking behind every bend in the road. Here were some of my favorite moments in Iceland:
Hraundrangi

Coming around a bend on the Ring Road, a half hour west of Akureyri, you're presented with this view. With no signs announcing where you are or the name of the ridgeline, I googled furiously after we got home only to find out that this is really just some farmer's backyard. If this was in the United States, it would be a national monument or something. You know Iceland has to be a really beautiful place when a view like this is commonplace enough to have no special designation.
GlacierWorld may not sound like a low-key, quiet place, but when we pulled up to the geothermal hot tubs just after dark, there were only two other people there. This place is so easygoing that to pay, you just put your fee (about $5) in a dropbox–gotta love the honor system! There's a little hut for changing into your bathing suit, but that's it as far as facilities. The super-friendly people who were there before us ended up leaving shortly after we arrived, so we had the whole place to ourselves. There is a series of hot tubs at varying temperatures, and you can turn on the faucets to add more hot water if you get chilled. The thing I loved about this place is just how out there it felt–at night there are no lights nearby and even though you're about 12 miles from Höfn, it feels much further. There's nothing better than kicking back in a hot tub with a sky full of stars all to yourself.
 Picnicking at Hvítserkur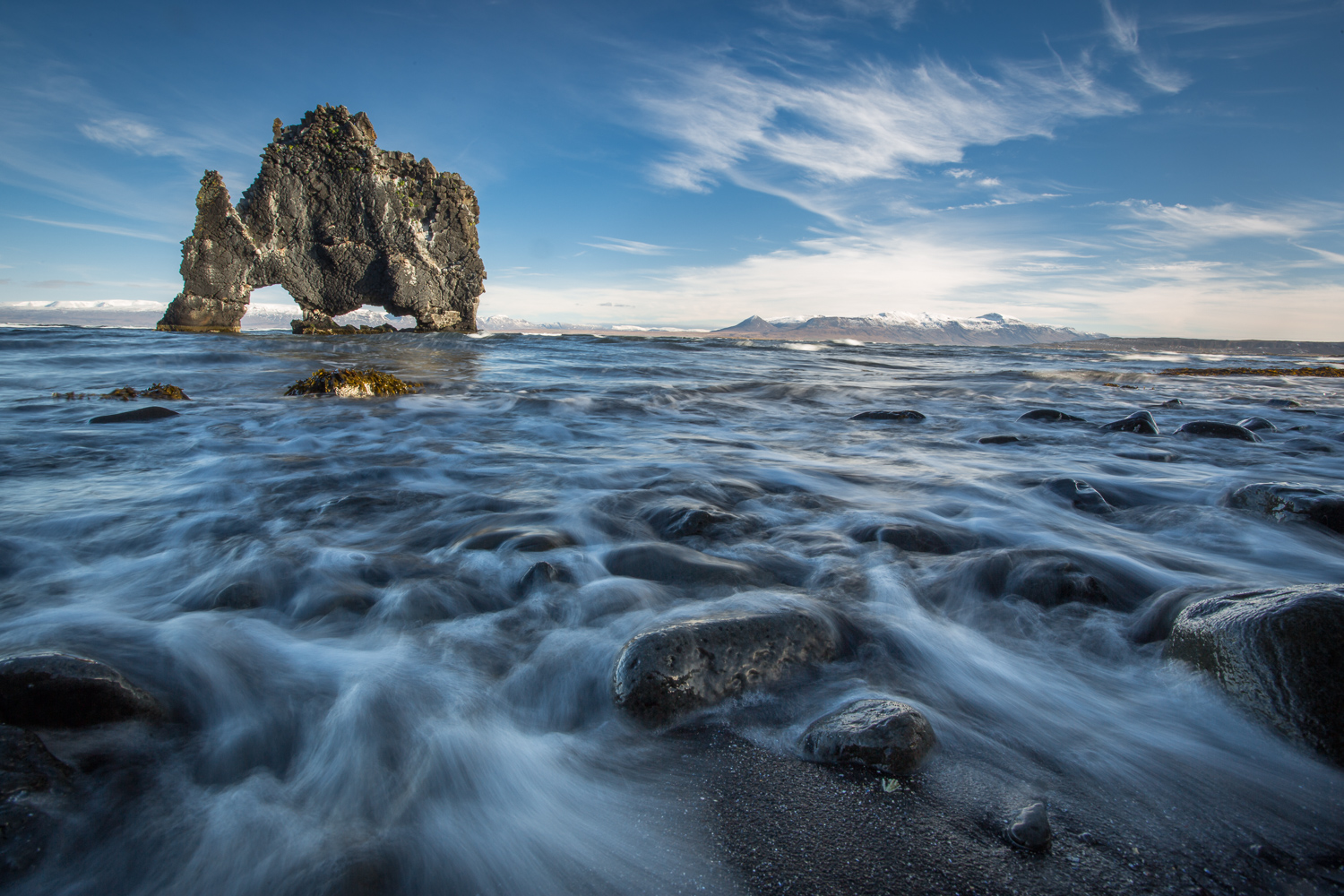 Hvítserkur is a quiet spot about an hour north of the Ring Road, on the Vatnsnes peninsula (Rte 711). Legend has it that a local troll was on his way to attack the nearby convent, when the rays of the rising sun struck him and turned him to stone on the spot. This is a beautiful spot to have a picnic lunch, thanks to the tables you'll find at the end of a short gravel road (there are signs along Rte 711 that will show you where to turn). From the tables, you'll find trails that lead along the cliffs for better views of Hvítserkur. There's even a trail that leads down to the water's edge, where you can see seals and birds.
Exploring ruins on the Snaefellsnes Peninsula
Somehow, this old house on the coast managed to be one of the most beautiful, atmospheric spots I had ever seen. Of course, this was only the second day of our trip, so we had most of the landscapes still ahead of us. Regardless, not many abandoned piles of concrete are this cool. We hung out and explored this spot for a long time.
Hanging out with ghosts at Dritvík
Everywhere we went on the Snæfellsnes Peninsula was quiet enough to feel like a local secret, but the abandoned fishing cove at Dritvík felt really out there. Once one of Iceland's busiest fishing ports, now it plays home to a few log ruins and an emergency shelter hut. You might run into a couple other people at the trailhead parking lot or on the beach at Djúpalónssandur, but once you head uphill from the beach on the way to Dritvík, you'll probably be by yourself. All the better to enjoy the little tide pools, moss-covered stones, and views of Snæfellsjökull hulking over the whole scene.