After our year on the road, it took only a few weeks for me to settle into a routine here in Boston. After three months, I know which restaurants I like and how long it takes to walk to each of them. I recognize all the dog-owners on our street thanks to several walks per day with Copper. I've made broken, bi-lingual conversation with the Puerto Rican who collects bottles from our street. Of course, an all-consuming wanderlust set in as soon as I started to feel at-home. After moving from one place to the next throughout 2015, sitting still feels suffocating.
All this to say, when my best friend asked if I wanted to get out of the city for a weekend, I agreed almost immediately. She and another friend were running a half marathon in Maine, and it was a perfect excuse to hit the road at noon Friday. Ben and our dog Copper tagged along and we had our first New England weekend getaway. I had no idea what to expect from the far northeast of Maine, where the race took place. The internet has little to say about the easternmost corner of the United States; most tourists stop at Bar Harbor and Acadia National Park. Our drive continued for another sixty miles past there, into unknown territory—for us, anyway.
Coastal Highway 1
Just past Portland, Maine, we turned onto Highway 1. Curving along peninsulas, rivers, and tidal inlets, Route 1 is the opposite of the winding roads I grew up with in the Rockies. It's gentle, never too far from the coast, but still lined with tall pine trees. We put on the Broadway cast recording of Hamilton, and enjoyed the view.
Picnicking in Camden, Maine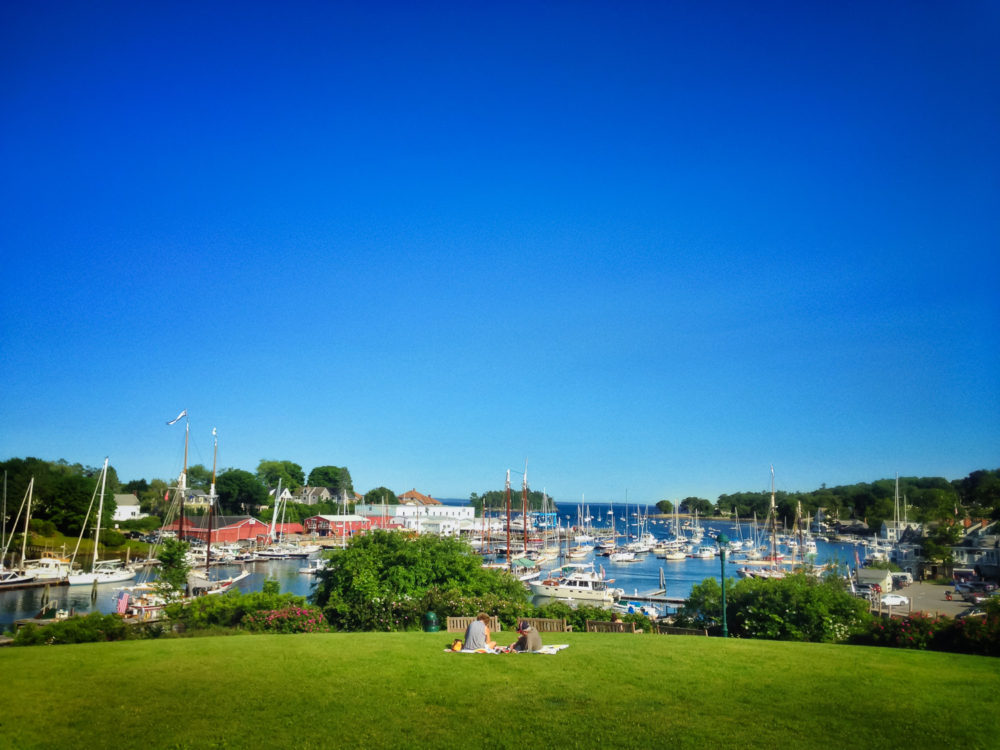 Around 4pm, it was time for a late, late lunch. When Highway 1 turned into Main Street Camden, I was immediately charmed into stopping. Ben popped into The Camden Deli while Copper and I scouted out the nearby park. The view was almost too beautiful, like a New England fever dream. A green lawn surrounded by rosebushes unfurled in front of us, and shingle buildings overlooked a sheltered harbor. In the distance, piney green islands dotted a deep blue Atlantic seascape. We ate sandwiches and a toffee bar on a bench in the shade.
North to Machias
All I knew about Machias, Maine before we arrived was that it hosted one of the first naval battles of the Revolutionary War. I didn't bother to learn much more about it during our stay, but that was okay. There wasn't much to see in town, so we explored the nearby forests and coastline all weekend. We only returned to Machias to relax on Saturday afternoon, which was perfect.
The place where we stayed was basic, but I loved it. The Machias River Inn might look like a typical roadside motel, but it has one huge advantage: every room faces the Machias River as it feeds into the ocean. You can drink your coffee watching seals hunt for breakfast, or have an afternoon beer on the lawn with a view of nesting bald eagles. It's a pretty idyllic spot to gear up for the day or unwind.
Sunrise at Quoddy Head State Park
The only thing I set my heart on doing over the weekend was watching the first sunrise in the country. That honor goes to the ironically-named West Quoddy Head Light, the easternmost spot in the U.S.  A candy-cane lighthouse overlooks a stunning coastline, and Canada is so close you can almost touch it.
We dragged ourselves out of bed at 3:15 a.m. on Saturday and piled into the car for a 40-minute drive. The pre-dawn light was gorgeous; deep pink and magenta streaked a lightening indigo sky. I worried that we had slept in too late and were going to miss the most beautiful colors.
But the wonderful thing about sunrise this far north is that the magic lasts for a long time. When we pulled up to the lighthouse, there were a dozen or so people taking selfies and enjoying the view. It's hard to overstate how beautiful it was. As the sun crested the horizon, Ben and I followed a coastal path to a nearby beach and basked in another half hour of beautiful golden light. He took pictures while Copper and I listened to the foghorn and made small talk with a visiting Amish couple.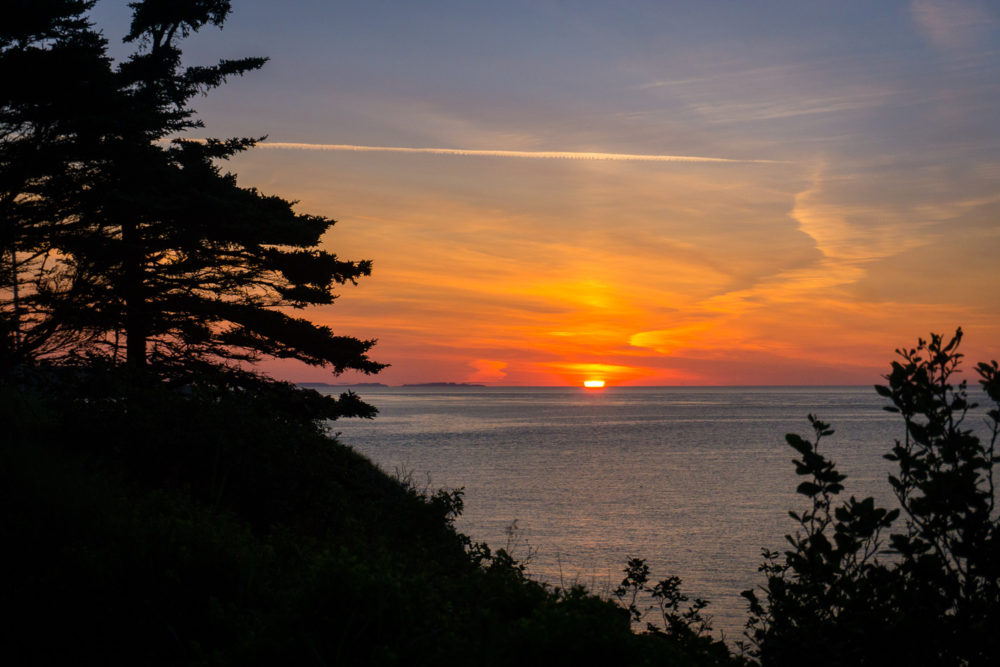 Once the sun had risen, our fellow gawkers deserted the park. We were literally the only people there as we hiked around the headland to a beautiful meadow called Green Point. I didn't know places like this existed in the U.S.  Wild iris bloomed vivid purple against the sage green coastal grass, and tiny white flowers unfurled in the warm morning sun. We ventured onto a rocky promontory a hundred feet above the crashing waves. The water made a sound that resembled a monster breathing as it rushed into the cracks of the cliff. Ben and I both thought of dragons (maybe because we were anxiously awaiting the Game of Thrones season finale).
On our way back to the car, the path meandered through woods with pines towering overhead and a carpet of mushrooms and moss underfoot. The most amazing scent of evergreen, wildflower, and salt air permeated our walk. Rays of early sun pierced the forest. It was a scene more beautiful than I could have imagined.
Eastport and Lubec
On Saturday afternoon, we explored Eastport; like many small towns in America, it seems to have outlived its heyday. Eastport was once the favored shopping destination for Eleanor Roosevelt, since she spent summers on nearby Campobello Island with FDR. These days, most of the storefronts are empty and the businesses that do exist have limited hours. Despite that, the ramshackle buildings along the waterfront were utterly charming. And if you want to go on a whale-watching trip or sunset cruise, Eastport is the departure point.
On Sunday, we ventured up to Lubec, where the half marathon ended. Most of the time, Lubec is probably as quiet as Eastport, but on raceday it was bustling and festive. We enjoyed breakfast at the Atlantic House Cafe, where I cracked open a book while we waited for our friends to finish their race. The deck felt like an extension of the nearby docks, and we had a perfect view of Campobello Island and its adorable lighthouse.
In both towns, locals were friendly and eager to strike up conversation with visitors. We also loved the waterfront gardens that seem to be a fixture of Maine coastal villages—the scent of roses in the salt air was wonderful.
The details
If you're heading "downeast" and you want to get off the beaten path, here are my recommendations.
Stay in Machias:
I absolutely loved The Machias River Inn. We drove past The Talbot House Inn in East Machias several times, and it looked gorgeous—but I have no idea what it's like inside.
Eat in Machias or Lubec:
We ate at Helen's Restaurant in Machias for lunch and dinner on Saturday, and it was good. The stylish rustic-modern decor was not at all what I expected from a small-town roadside diner. The pie is legit, and I had an amazing lobster dinner, fresher than you can imagine!
In Lubec, Atlantic House is a charming spot for coffee or full-fledged breakfast. They were only serving breakfast sandwiches on the morning of our visit, but I also heard great things about the blueberry pancakes. FYI: there was a banner on the front that said "Sunrise Cafe" when we visited.
If you need to stop for a snack on the way, the Camden Deli in Camden or Flexit Cafe in Ellsworth are both great. I appreciated the Flexit Cafe's salad and smoothie options after a weekend of overindulgence.
Things to do in the area:
Bring your passport and visit Campobello Island, Canada. From what I hear, the afternoon "Tea with Eleanor" at The Franklin D. Roosevelt Summer Cottage is particularly worthwhile. My friend said the stories of Eleanor's life and accomplishments were inspiring enough that she left with a lump in her throat.
DO NOT SKIP sunrise at West Quoddy Head Light. The pictures…enough said. This is a once-in-a-lifetime moment, if you luck out with weather.