We've been in New Zealand for about a month, so I guess now would be a good time to start writing about it. We've spent so much time soaking up the scenery that we haven't had time to hunker down in cafes (nor can we afford to–coffees start at $3!). The title of this post is Maori; it literally means "Welcome to the land of the long white cloud." Maori culture has a huge presence here, although we've learned that wasn't always the case–Maori wasn't an official language of New Zealand until 1987. Before I delve too far into NZ's fascinating, controversial history and culture, I should start at the beginning…how we got here.
Our journey to New Zealand was unorthodox, because we booked our flights using only miles (thank you airline credit cards!). Instead of going the regular, trans-Pacific route, we flew east, from Denver to Frankfurt, Frankfurt to Bangkok, and Bangkok to Auckland. We left Colorado December 29th and our journey ended January 2nd.
Layover in Frankfurt
There are a lot of options for leaving the Frankfurt airport during a long layover; there's a train station right in the main terminal and it's not far from the Frankfurt central business district. However, we weren't really interested in exploring the center of European finance, so we took an eastbound train for Wiesbaden. This little town probably isn't on many tourist bucket lists, but it played an important role in my mom's life, given that she lived there for a few years of her childhood while my grandfather was stationed at the U.S. Air Force base. Exploring Wiesbaden felt like a worthwhile way to spend an afternoon that would otherwise be wasted at the airport.
It was a freezing, gloomy afternoon and we were exhausted from the trans-Atlantic flight, so we didn't last long. A couple hours wandering the city streets, and we headed back to the airport.
A day in Bangkok
Our second layover was a 36 hour stop in Bangkok on the last day of 2014. We made our way from the airport into the city on our last reserves of energy and collapsed on the bed as soon as we arrived at our hotel, around 4 pm. We were planning on sleeping for an hour or so and then heading to a nearby market for dinner, but of course our tired bodies had other plans. The fireworks woke us up at midnight; we went up to the roof to watch them and then went right back to bed!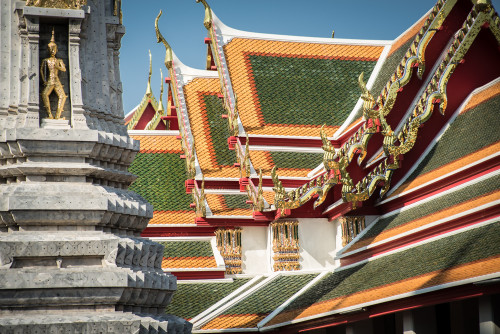 Another eight hours later, we rolled out of bed (bringing our sleep to a total of 15 hours, yikes) and headed for Wat Pho via water taxi. Wat Pho's reclining Buddha is one of Bangkok's most famous sites, and luckily we arrived before most of the crowds. By the time we left to head to the Grand Palace next door, the sidewalks had turned into a river of humanity. I guess New Year's Day is a popular sightseeing holiday in Thailand, but the crowds were too much for us. We turned around and walked back to our hotel–an hour-plus walk through some of Bangkok's least interesting neighborhoods.
It was probably not the best introduction to Thailand, but it was all the time we had before going back to the airport for the last leg of our journey.
Arriving in Auckland
The next morning as we passed over the Tasman Sea, Ben lifted the shade on our window and we caught our first glimpse of Aotearoa, the land of the long white cloud. Miles of verdant coastline and blue seas, with a thin strip of sand in between. It looked beautiful.
We deboarded in the midst of a New Zealand summer day; it couldn't have been more idyllic, and it couldn't have felt further from the blizzard conditions that had marked our departure from Denver three days earlier. Our first afternoon and evening in town were spent doing laundry and then exploring the harbor. I woke up the next morning to the sound of seagulls, giddy with excitement about being in the Southern Hemisphere.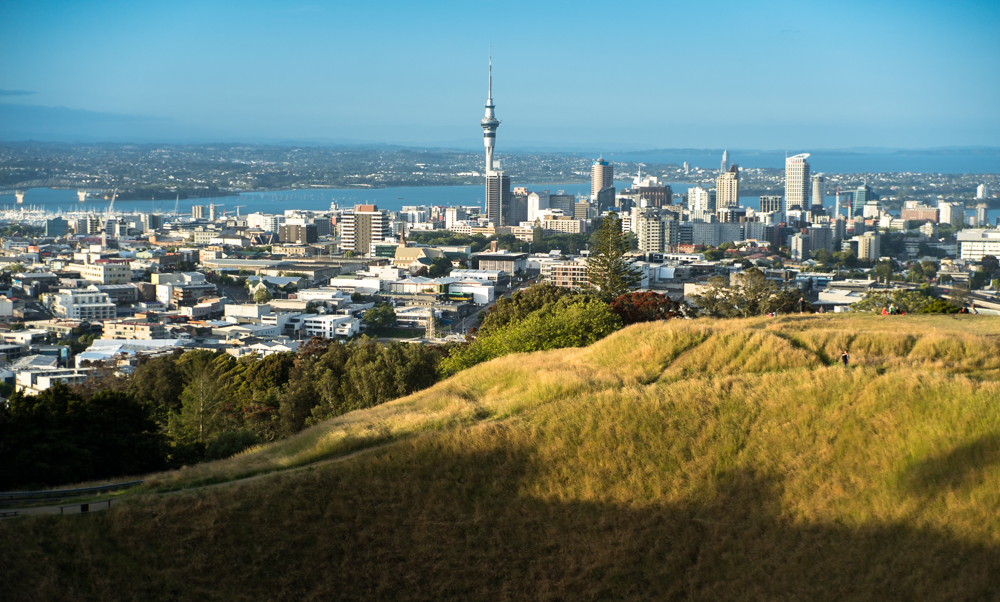 Auckland is a really nice city, albeit not terribly interesting. We spent a few days running errands–getting SIM cards for our phones, buying a van–interspersed with exploration, like our hike to the top of Mt. Eden. But we were itching to start our NZ adventure, so as soon as everything was settled, we were on the road. More on that to come!