Moab and its surrounding desert has changed a lot since Edward Abbey published Desert Solitaire in 1968, but it's still a pretty rough-and-tumble place, and this quote holds true:
"…the strangeness and wonder of existence are emphasized here…life not crowded upon life as in other places but scattered abroad in spareness and simplicity, with a generous gift of space for each herb and bush and tree, each stem of grass, so that the living organism stands out bold and brave and vivid against the lifeless sand and barren rock."
It's still a place of extremes, highest among them the otherworldly beauty that stretches in every direction from the outskirts of town. It's not the place to be if you're looking for high culture or great food (seriously, Moab is in dire need of a good restaurant or two), but if you need to spend some time getting back in touch with the outdoors, this is one of the best places to go. Between the two of us, Ben and I have made six trips to Moab in the last year or so. Here are some of our favorite things to do there:
Best Nightlife
Delicate Arch by Moonlight (image above)
Arches National Park is not one of the more peaceful spots in southeast Utah. Delicate Arch (the arch that's featured on Utah's license plates) is probably the number one attraction in the greater Moab area.The landscape is so alien and conveniently so accessible from town that it's pretty much overrun with tourists–until after sunset. On one trip last fall, Ben and I got lucky with a full moon and took full advantage by heading straight to the most popular trailhead within a hundred miles; it wasn't empty by moonlight but it was significantly quieter and a completely different experience than hiking the same trail during the day. A word of warning: it is best to do this as a night hike only if you're with someone who's done it during the day; the cairns marking the trail aren't easy to spot in the dark and I mostly navigated by memory. Bring headlamps and a warm jacket. The desert is cold at night!
Best Way to Cool Off
Stand-up Paddleboarding on the Colorado River
This was easily one of the most fun things I've done on vacation in awhile, despite the fact that I absolutely could not stay on my board in spots where the current picked up. A bus from Paddle Moab drove us upriver out of town, dropped us off with a couple guides and some paddleboards, and then drove six miles downriver to wait for us. After a short speech from our guide about safety and how to stay upright, we were on the water…or more accurately, in the water. I fell off within a minute and a half. I picked it up quickly though (outside the "rapids" I was able to stay standing) and I'm sure anyone could. Between everybody pushing everybody off their boards, splash wars, and races, all the adults in the group seemed to be feeling like kids again.
Best way to get your heart pumping
"The Other Half" half marathon, five mile, etc
I tagged along with Ben's family this spring for "The Other Half," a half marathon that runs along the river into Moab. If you're a road runner, this is a great change-up from running in an urban setting; it's just you, the canyon walls, and a few thousand of your best running buddies. Oh, and the group of Taiko drummers who pound their drums at the top of the highest hill on the course (they give the best high fives)!
Best Hike
Chesler Park Loop
One of our favorite writers, Brendan Leonard of Semi-Rad.com, called this hike "the best desert dayhike in America" and for our money, he is right. The Chesler Park loop has a bit of desert everything; Needle Rock formations, arches, streams and grass valley oases (in the Spring at least), big sandstone walls, slot canyon sections, wildflowers when in season, cryptobiotic soil (LIVING dirt!). Really, if there is one trail that best shows off everything the desert has to offer, this is it. Based out of the Needles District of Canyonlands National Park, this trail is a bit out of town, but definitely worth the extra hour and a half of driving. The road out to the trailhead takes you through beautiful Indian Creek (known for its awesome sandstone crack climbing) before eventually dead-ending in the National Park. The Chesler Park loop is about 8 miles total with options to extend the loop with the Joint Trail or by spurring off to Druid Arch, one of the most dramatic free standing arches in the area (which is saying something considering there is a National Park named Arches in said area).  Expect crowds if you go on a weekend in the Spring or Fall, but get an early start, and you'll likely have the trail to yourself until you start heading back to the car.
Best "Typical Tourist Attraction"
Hole N" The Rock
Yes, that's how they spell/punctuate it. I have mixed feelings about this place, mostly related to the zoo. Zoos are weird places for me, animal welfare and all that, but that's a post for another day. Anyway, if you love campy, über-touristy spots that make no apologies for their utter absurdity, this is the place to be in Moab. Sometime in the mid-twentieth century, a guy (who was probably a small-time con artist) and his loving wife came here and literally drilled their home into the rock. He had a passing interest in taxidermy, which resulted in some very creepy specimens that you'll see on the tour. Their website says the tour lasts twelve minutes; ours took significantly longer, maybe because our tour guide seemed to have a deep, strange appreciation for the odd couple who made this place their home and are now buried out back. There's also a doll collection. This place is as weird as it sounds; if you head south out of Moab, you really can't miss it since "HOLE N" THE ROCK" is painted in giant letters on a cliff right next to the road. Skip the zoo if you feel bad about exotic animals in pens.
Best Junk Food
This is a Moab institution, which you'll find out as soon as you pull up and see the line to order. What most people don't seem to know is that you can skip the line by going inside to eat, instead of ordering at the window. On the day we went, there was a 45 minute wait to order at the window and two empty tables inside.  This is diner food; you won't find many vegetarian options, but the tots are great, especially dipped in a milkshake.
Best Views
We couldn't choose just one, so here are a couple places to spot those iconic Utah views: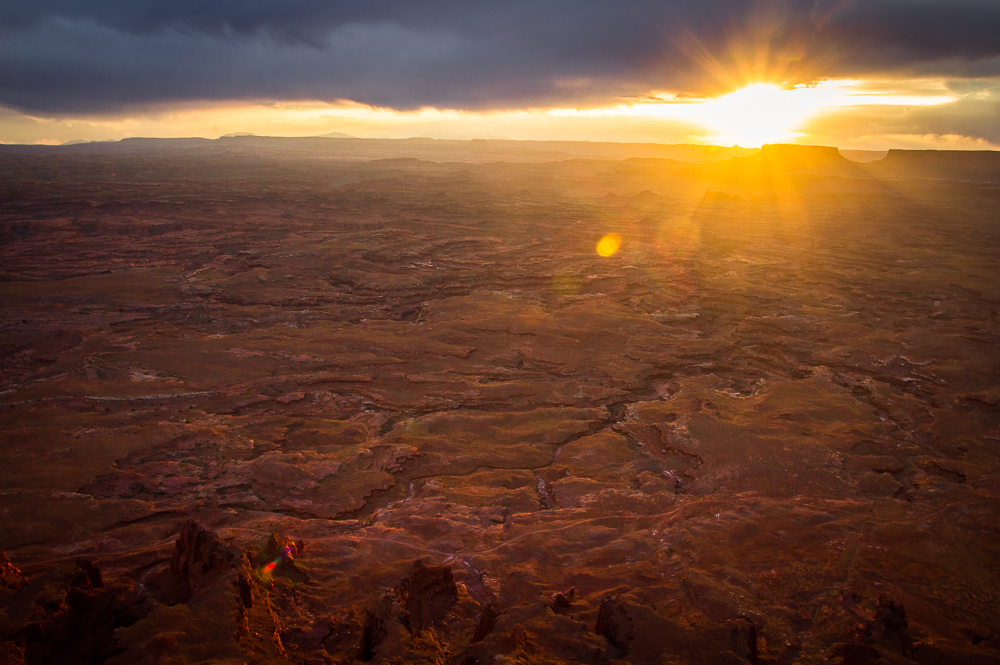 Finding places of (relative) solitude can be tough in Moab on the weekends. If you are willing to trade some miles on your car for a campsite away from the rest of the weekend warriors, the Needles Overlook is your spot. The overlook gives you giant, panoramic views all the way from Book Cliffs north of Moab down to the Blue-Abajo Mountains near Monticello. While the view alone is worth the drive off the highway, the camping on the Canyon Rim is what makes this place special. The Overlook and its surrounding area is on BLM land, meaning you can camp just about anywhere off the road. Given the distance from town, most of this canyon-top is open to your pick of a campsite. Highly recommended is finding a spot near the canyon rim where you get your very own overlook view.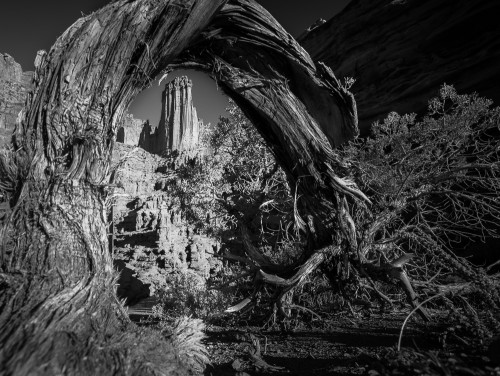 This campsite and trailhead is just northeast of the beautiful Castle Valley and a little more than 15 miles outside of Moab. We've never done the whole hike, because we had Copper with us and one section of the trail required climbing a ladder. Our short jaunt right around sunset was still adventurous, though, thanks mostly to the rather large scorpion that Copper nearly licked before I caught on and jerked him away. Besides nightmarish pests, this spot is known for amazing rock towers and some iconic rock climbing routes (remember that Citibank commercial? yep, that was Fisher Towers). The views from the ground are almost as beautiful as they are from up on top of the towers…and a lot easier to get.
Best Healthy Food
Peace Tree Juice Cafe
If you don't eat meat, you might come to rely quite heavily on Peace Tree while you're in Moab; it seems to be the token healthy restaurant in town. Luckily, the smoothies are so good that I find myself fantasizing about them even when I'm not in southeast Utah. On top of smoothies and fresh juices, you'll find breakfast staples, salads, wraps, sandwiches, even burgers on the menu–so this is a safe place to bring your carnivore friends and family. We tried some great hummus last time we were there.
That does it for our favorite things to do in Moab. You'll need at least a few days to tackle all of the above, but regardless of what you choose to do in this corner of the Southwest–take your time. The desert is far too beautiful to rush.