To make it clear just how much I loved Wellington, I'll have to start by pointing out that for our first four weeks in New Zealand, Ben and I barely ate in restaurants. After paying for campsites and activities, we could just afford to buy food from supermarkets and the occasional takeaway. So when we got to Wellington and saw the two free campsites (practically in town) and all the free things to do and see, I was thrilled. Being able to spend our entire daily budget on food was like a dream come true. Brunch! Afternoon drinks! Dessert! The possibilities spread out in front of me like a smorgasbord and that was it, I was in love with Wellington.
Of course, there's much more to New Zealand's capital city than restaurants (although it has more dining options per capita than New York City). There are vast green spaces right next door to the central business district. There are museums and galleries that could fill a month of sightseeing on their own. And there are enough boutiques to keep even a hardened shopper such as myself satisfied. But, since the restaurants are where my love affair with this little city began, that's where we'll start. Here are the highlights from the week we spent eating and drinking our way across Wellington.
The Library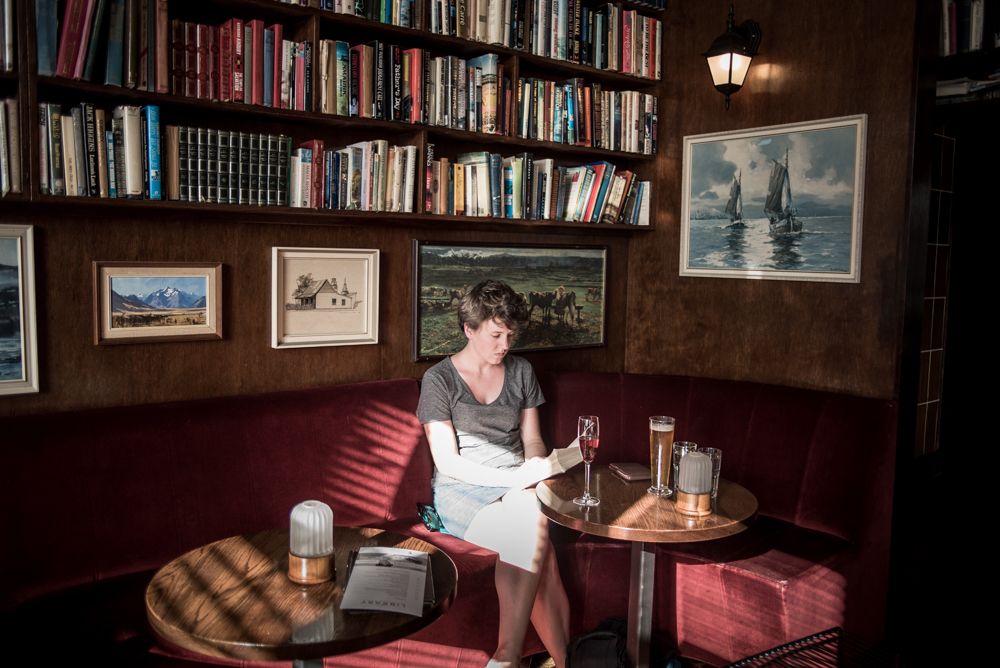 Aaahhh, this place was like heaven. Up a set of nondescript stairs and behind an unassuming door is this gem of a lounge. The walls are lined with books, the seats are all leather. And they run daily specials like two-for-one desserts on Tuesday and two-for-one cocktails on Wednesday. We had delicious drinks and desserts here and to be honest, I would have been happy if we had come here every day that we were in Wellington.
Little Penang
Cheap, delicious Malaysian food—what's not to love?
Fidel's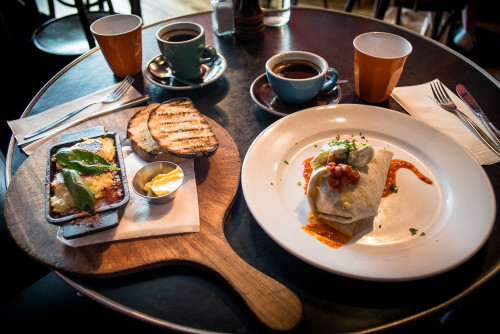 With that name and its location on Cuba Street, you might be expecting food with Latin flair, but the menu is predominantly New Zealand cuisine. We came for brunch; Ben had a "really good" breakfast burrito with chorizo (there's your Latin influence, I guess?) and I had amazing Lemon Ricotta dumplings. You can't beat the atmosphere here, both in the indoor dining room and the back patio. It oozes charm.
Ekim Burger
We came here with our new friends Jenna and Jordan, who you may know as the team behind Stoked for Saturday (if you've never checked them out, do it! They have awesome videos of their adventures all over NZ). All sorts of burgers are served out of a food truck on a Cuba Street corner. This place was hopping, despite the fact that the fryer was out of commission—no chips 🙁 My veggie burger was excellent, with a corn fritter-type patty (maybe the best veggie patty I've ever had) and nice, spicy toppings. Ben had a beef burger with jalapeño salsa, avocado and bacon. It was tempting to come back the next day and the day after that. The whole menu looked so good.
Beach Babylon
Beachside brunch at Oriental Bay. Another breakfast burrito for Ben, which he says was good (nothing special). The standout was my potato rosti. How have I never had rosti before? They were basically huge hash brown patties, topped with a poached egg, wilted spinach, and hollandaise sauce. It was basically eggs benedict, with hash browns instead of an english muffin. Okay by me!
Laundry
This spot was hipper than hip. As far as I can tell, the menu didn't have a theme or style of cuisine, but the drinks were awesome (the food was alright). We shared gumbo and an order of chips. I had a nice, tangy gin sour and Ben had a cocktail called El Diablo: tequila, ginger beer, basically a Moscow Mule with tequila instead of vodka. Somehow it worked.
Sweet Mother's Kitchen
If you're craving southern food and happen to be stuck in New Zealand, Sweet Mother's is probably your best bet. It's not the most authentic southern food you'll ever get, but it'll definitely hit the spot. And to sweeten the deal, everything on the menu was pretty cheap.