We spent almost a month in Morocco and to be honest, I think a week or ten days would have been perfect. Everywhere we went, people stopped their conversations and stared at us, even in big cities where I'd expect tourists to go unnoticed. Men gave Kristin and I a slow once-over, sometimes accompanied by a whistle or catcall. I'm grateful that we don't speak Arabic or French, because we at least had no idea what the men who hassled us were saying. When we tried to make eye contact or smile at people, they averted their eyes instantly. I felt uncomfortable often, like I was being disrespectful no matter how hard I tried.
I had one straight-up meltdown, and it was early in the trip. On our first laundry day, all my pants were in the wash and I settled for a knee-length dress. After all, lots of other American and European tourists were in shorts and tube tops (remind me to never use this as an excuse again). I lasted about fifteen minutes out on the streets before the glares got so intense and unrelenting that I broke down crying in the middle of a busy pathway, trying to ask Ben for the keys to our hotel so I could go back. I wore pants for the rest of the trip, and even short sleeves felt immodest after that.
When we got to Chefchaouen, a mountain town near the Mediterranean Coast, I was close to my breaking point. We'd been in Morocco for over two weeks and I was ready to leave. Thank God we didn't, because Chefchaouen was almost awesome enough to make me change my mind about the entire country.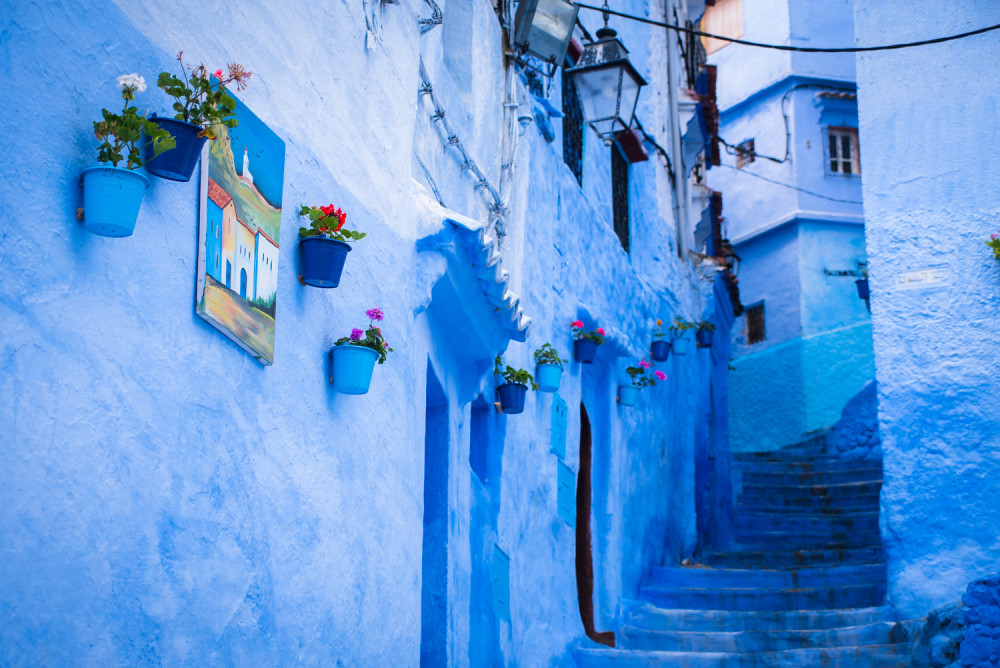 The streets of Chefchaouen's medina wind up a mountainside between homes, shops and restaurants that have all been painted a beautiful blue. Potted flowers dot the walls and bougainvillea vines tumble over hidden arches. And while I normally find towns that are overrun with tourists to be a complete bore, here, it was a relief. There were so many Europeans that nobody gave us three Americans a second look. And while shopkeepers still tried to tempt us with their wares, there was a lot less of the aggressive salesmanship that we had encountered in Marrakech and Fes. Overall, Chefchauoen was just gloriously laidback. We hiked, we shopped, but most of all we took a deep breath and relaxed.
I highly recommend a visit to Chefchaouen if you're traveling to Morocco, no matter how long or short your trip is. It's close to Tangier and relatively easy to get to. It has an ancient medina, kasbah, leather and carpet stores, a lot of the things you'd expect from Morocco without the uncomfortable stares and hassling that you may encounter elsewhere in the country. See below for our can't-miss recommendations. And FYI, our other favorite town in Morocco was the peaceful, whitewashed seaside village of Asilah.
Our favorite things in Chefchaouen
Where we stayed: Casa La Palma
This was the best place we stayed in all of Morocco, thanks to the Spanish owners, Carlos and Ana. They were incredibly fun and hospitable, to the point of inviting us out to the bar with them in the middle of the afternoon (hey, it was almost Ramadan. You'd day-drink too if the entire town was literally running out of booze!). Their cozy blue house is nearly at the top of Chefchaouen's hill, and from the rooftop terrace, you can see the entire valley. I was tempted to spend our entire five-day stint in Chefchaouen perched on that roof.
Where we ate: Pizzeria Mandala
Moroccan food was amazing at first–and then I never wanted to see another tagine again. Pizzeria Mandala probably isn't the best pizza you'll ever have, but it might taste like it at the time if you've had your fill of couscous and tagine.
Where we hiked
It is easy and quick to hike to the white mosque perched above Chefchaouen, and the views are stunning. For a longer outing, the Route de Tisemlale toward Azilane is a low-traffic dirt road with beautiful views the whole way.
Have you ever visited a place that made you uncomfortable? Did you leave, or find a way to take a break or make it work? Tell us in the comments!