I wanted to love Karamea. At the end of a twisty road, on a beachy corner of New Zealand's South Island, it sounded right up my alley. The town refers to itself as the West Coast's "best kept secret" and Lonely Planet described it as "a great place to jump off the well-trodden tourist trail." Maybe it was a little too far off the trail for my taste.
We pulled into Karamea late on a sunny afternoon and made camp at the local rugby field. The camp hosts were a super-friendly, kind of kooky older couple. Fred showed off the garden they were growing in some old boots and other random containers; Caroline corralled the cats for me to pet. After dinner, we set off for a sunset walk around the estuary armed with a bottle of wine and our cameras.
It was when we headed back into town that things got a little weird. We walked down one of the two main streets in town and passed house after house with barely a sign of life. A television could be seen droning to an empty room in one house, but otherwise, everything was silent. At first it seemed like your typical small town Tuesday night, but after a few blocks, it felt like we had wandered into the Twilight Zone.
The next morning, we headed out for Karamea's main attraction, the Oparara Basin. The parking lot was full, despite the long, rutted-out road and the total lack of people in town. After walking into the forest, I understood why. From an almost mythical jungle setting, the Oparara Arch emerged. Overwhelmingly huge, it made the people standing at its base look like Polly Pocket figurines. It was impossible to capture the magnitude with my camera, but Ben, always the pro, did a pretty good job of it.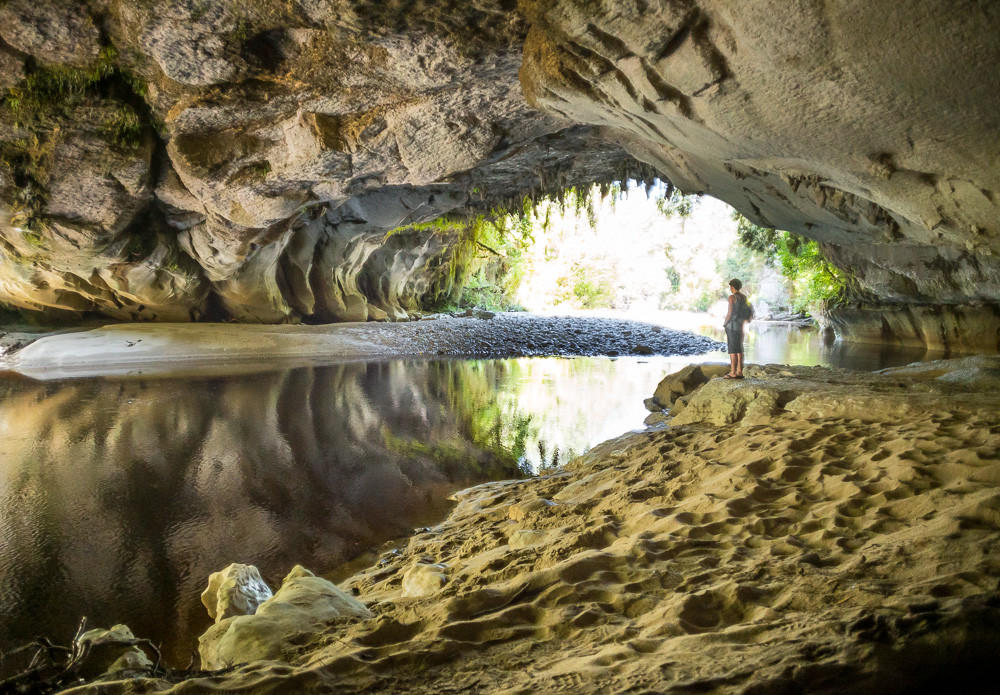 The arch isn't the only thing going on in the Oparara Basin; there are waterfalls and caves tunneling through the hills. One of them, Moria Gate, is named after the door to the dwarves' underground city in Lord of the Rings, and it really does look like something out of Middle Earth. Unlike the arch, we had this spot to ourselves for some photos and daydreaming. It was easy to imagine a boatful of elves coming down the river and passing through the cave.
Our next destination were the Fenian Caves, a set of caves in a gold-mining area between Oparara and Karamea. After the Abbey Caves in Northland, I was a little caved-out, but it had been a little while since then, so off we went for more spelunking. At Miner's Cave, there was sparkly gold dust on every surface (it was probably pyrite, Fool's Gold, but it's fun to pretend).
As fun as the caving was, the best part of Fenian was the trail itself; it led through a crazy forest. In some places, we climbed right up tree roots, following the trail all the way.
Of course, after sightseeing it was time to head back into Karamea. I wanted to switch it up, so we moved camp to the local Backpackers (Kiwi for hostel) for what turned out to be one of our most expensive nights of camping–$40 to sleep in our van in the parking lot. At first it seemed worth it with the promise of hot showers, wifi, and outlets to charge everything. But soon, it seemed like straight-up highway robbery. We took advantage of the hot showers (short ones because of the current drought; the rainwater basin was running low), wifi (unbearably slow), and power outlets (where the power strip had no surge protection and kept powering down for long stretches of time). And you better believe we took advantage of the free tea too (no complaints here, the tea was delicious)! While the nitpicks are petty in the scheme of things, when you are living on a tight budget in an expensive foreign country, the little comforts you squeeze out of every penny start to feel more and more important. Obviously, our $40 splurge was a bit of a let-down.
After all of our tramping around, cooking seemed like a gargantuan task, so we made our second mistake of the night and headed to the pub for dinner. Whitebait is a big deal on the West Coast, and having never heard of it, I decided to try it out and Ben followed suit. What is whitebait, you ask? Apparently it is the juvenile form of several different kinds of fish and it's eaten whole: head, fins, bones, guts, even the eyes, often combined with an egg to form a patty. Imagine a flavorless pancake, full of white earthworms with black eyes that stare at you whenever you take a bite. For $17, you can have the privilege of eating this between two soggy slices of Wonder Bread, with a lemon slice!
It wasn't my favorite meal in New Zealand, as you can see.
I can see why people rave about Karamea. If you've come from the south, where tourist buses careen around every corner and the big sights are overrun with people, Karamea's empty streets and quiet natural attractions probably seem like a great change of pace. The Oparara Basin and the Fenian area were both awesome. But the town itself was an expensive disappointment and ultimately, just a little too far removed from "civilization" since we've spent many nights out in the middle of nowhere. Karamea was neither here nor there. If I'm going to camp right in the middle of a town, and pay for the privilege, then I'd like a good cup of espresso and a decent wifi signal.