We arrived in Budapest on a stunning summer evening, golden light filling our train car as we cruised through the suburbs and into the station. As we navigated the (totally amazing) Metro and walked the city streets toward our Airbnb, the shadows lengthened into evening. It was a beautiful night, but there was one problem: I hadn't heard from the Airbnb hosts all day and had no idea how to check into the place; I only knew the address. Hours passed, but we eventually connected with Viktor, got our apartment keys, had a cursory dinner at the pub down the street, and crashed exhausted into bed.
Minus the issue with check-in that first night, our five days in Budapest were nearly perfect. It cemented itself as one of my favorite places in Europe, and ranks right up there with Paris and Prague as one of the most beautiful cities I've ever been to. We continued to have good weather, food was cheap and plentiful (and deliciously indulgent), and we managed to strike the perfect balance between tourist sightseeing and relaxing with the locals in more residential areas. Later in the summer, refugees flooded the city, the Hungarian government shut down the main train station, and chaos ensued. But during that week in July, Budapest was peaceful, warm, and welcoming.
Here's how we spent an idyllic five days in Budapest, "the Paris of the East."
Free Budapest Walking Tour
Our tour with Free Budapest Walking Tours was, as always, engaging, educational, and entertaining, not to mention a good workout. I've never regretted an afternoon or morning spent on a free tour (we've done them in Amsterdam, Belgrade, and Krakow as well), and they're the perfect way to orient yourself in a new place on the first day of your visit. Our guide gave us a full rundown of Hungarian history, told us all about the best foods to eat in Budapest, and was even willing to stay for a half hour after the tour ended to give people personalized tips on what to see or do. No matter how much you decide to tip at the end, any of these tours (they have standard sightseeing tours, Jewish Quarter tours, Communism tours, and a pub crawl) are a great value.
Strolling Margaret Island
If I'm going to spend a week in the city and enjoy it, green space is essential. Budapest happens to be blessed with an entire island of it. Margitsziget, or Margaret Island in English, is a long and narrow park in the middle of the Danube, accessible by a bridge that you can cross on foot, car, or tram. We crossed the bridge on a brilliant summer Sunday, joined by hordes of locals; the beauty of Margaret Island is that it's so big, thousands of people can enjoy it without stepping on each other's toes. Dozens of paths crisscross under a canopy of trees, gardens and fountains dot the wide grass fields, and during the summer, you can enjoy theater, music and dance as part of the Budapest Summer Festival.
If you don't have time for an afternoon at the park, it is well worth walking across the Margaret Bridge at night for one of the best views in Budapest.
Hiking up Gellért Hill
Are you sensing a theme here? Yes, we did a lot of walking in Budapest. The city has an excellent public transportation system (and some of the coolest metro stations EVER–seriously, go look at those pictures), but it is so beautiful that we wanted to see as much as possible. Exploring on foot is by far the best way to do that.
Anyway, Gellért Hill plays a huge role in Hungarian history, and offers a panoramic view of Budapest. There is a network of paths to the top, starting at the west end of the Erzsebet Bridge. Shortly after you start up the hill, you pass a huge statue of its namesake, Bishop Gellért, who helped convert Hungary to Christianity and in return, was rolled down this hill inside a barrel full of nails. Yeah, those pagans didn't mess around. Moving on…it shouldn't take more than an hour to walk to the top of the hill, where you'll find an ironic combination of sights: the Citadel, a fortress built by the Habsburgs to keep this rebellious segment of their empire under control, and Budapest's Statue of Liberty, commemorating Hungary's liberation from the Nazis. Despite this juxtaposition, which captures the complexities of Hungary's history quite well, the panoramic view is the real star here.
Széchenyi Thermal Bath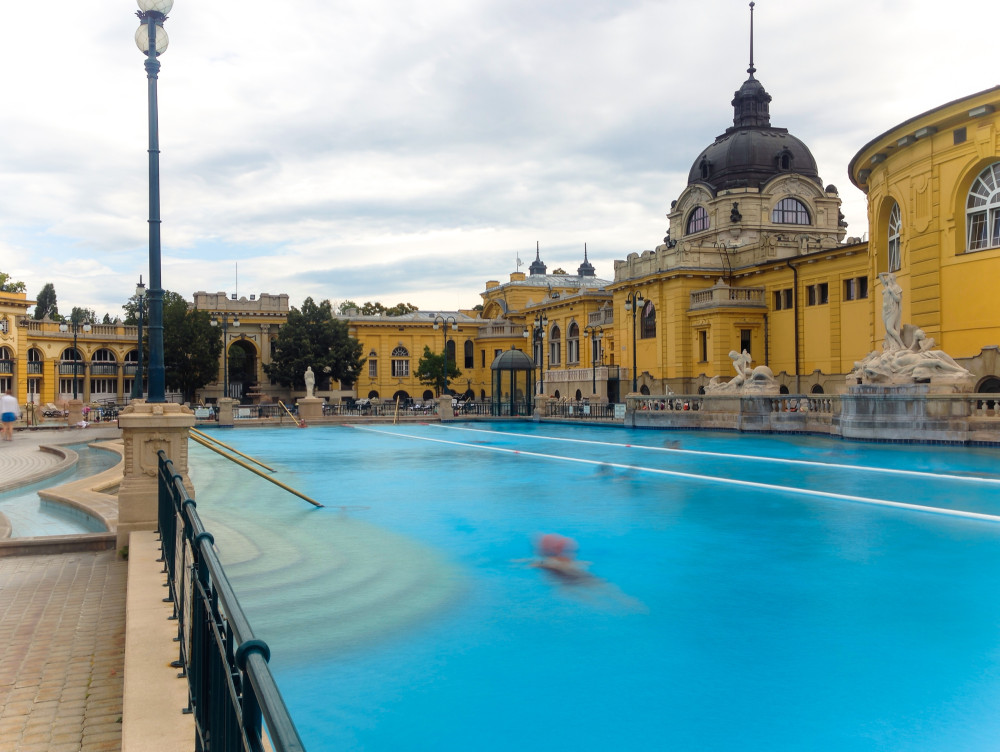 On a cloudy, cool morning in Budapest, there is nothing more tempting than a dip in one of the city's many thermal baths. You can find a different style for any taste, from modern to Art Deco, and we chose the neo-baroque Széchenyi Baths, the largest medicinal baths in Europe. The 1913 building is beautiful, and there are at least as many locals as tourists here, floating around in the fifteen indoor baths and three stunning outdoor pools. If you're picky about getting into a warm bath with hundreds of other people, I'd choose a more high-end place; the pools at Széchenyi did feel like they could have been cleaner, and I'm not totally convinced that every single person there showered before getting into the water. However, for about $17, this is a solid budget spa option, an iconic spot in Budapest, and a relaxing place to hang out with the locals.
Ruin bars

Before we got to Budapest, I was really, really excited about the ruin bars–bars that have sprung up in abandoned/worn-out buildings around Budapest for the last fifteen years or so. I have been known to peruse #ruinporn on Instagram and Tumblr for hours, and I like a good cocktail. A combination of the two just sounded so awesome. We decided to go to Szimpla Kert, the oldest and most famous of Budapest's ruin bars, on a Sunday morning, when they host a farmer's market, and again on a weekday afternoon. When we walked in, both times, LITERALLY EVERYONE WAS SPEAKING ENGLISH. There's nothing inherently wrong with going to a bar full of English speakers, but in a non-English-speaking-country, it most likely means you're surrounded by tourists and exchange students. I don't go to touristy bars or college bars at home, so I don't really want to go to them abroad either.
HOWEVER. There are dozens of ruin bars in Budapest, and I'm certain most of them are less touristy. And there's truly nothing wrong with Szimpla Kert. It's popular for a reason, and the farmer's market was pretty cool. It's worth stopping by for a wine spritzer (Budapest's drink of choice) and then heading somewhere more #authentic afterwards.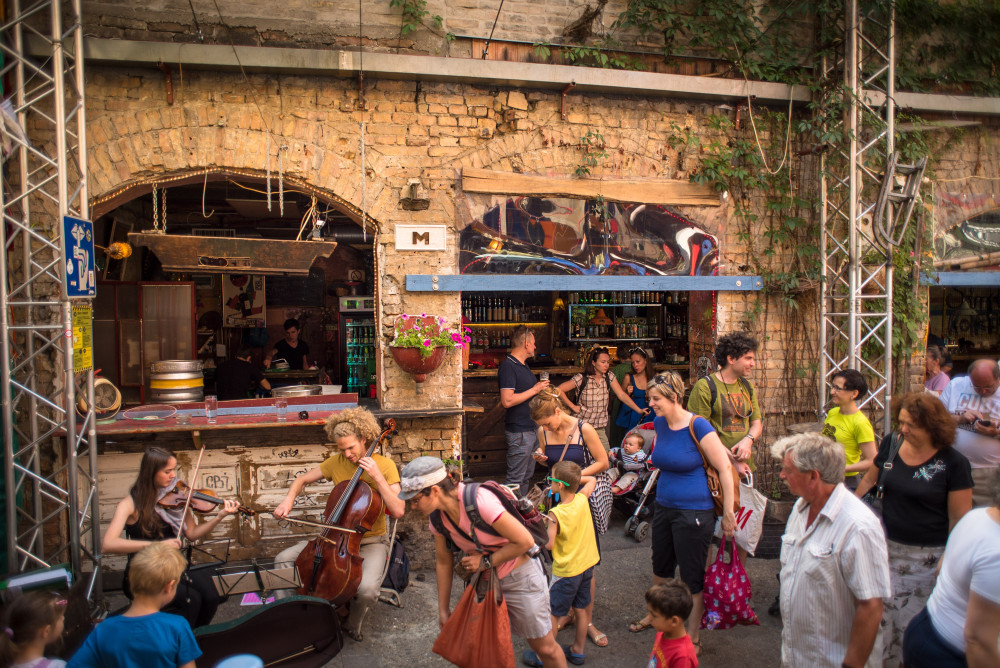 Budapest's Memento Park
When the Cold War ended and the Soviets left Hungary, the people of Budapest were eager to rid their streets of Communist monuments. Huge statues had been erected throughout the city during the Communist regime, meant to intimidate the people and remind them who was in charge. When Hungary became a free society in 1989, they gathered the statues and arranged them in this park as a reminder of their Communist past. It was a trippy experience to walk amongst these behemoth monuments on a beautiful blue-sky day, imagining what life must have been like when art was a means of subjugation rather than a thing of beauty and celebration (as it now is in Budapest). I love this quote from the architect who designed the park:
"This Park is about dictatorship. And at the same time, because it can be talked about, described and built up, this Park is about democracy. After all, only democracy can provide an opportunity to think freely about dictatorship. Or about democracy, come to that! Or about anything!"
Food and drink
There was nothing highbrow about the food we ate in Budapest, and I loved it. One of the most popular foods there is lángos, a disc of fried dough topped with sour cream and cheese. We scarfed ours down at Retró Långos Büfé, a classic stall at the Arany János Metro station.
Wine spritzers are everywhere in Budapest, and should ideally be enjoyed at any sidewalk cafe on a summer evening. But the craft beer scene is just started to catch on there, and Pater Marcus Abbey, on the Buda side of the river, is a great place to check it out. They brew their own beer and have tons of other choices as well. I had a witbier called Blanche d'Ardenne, mostly because of the menu description: "distinguished summer thirst vaccinator even for ladies!"
We were missing Mexican food something fierce by this point in our trip, and luckily walked past El Bigote, a "tortilla" stall (the Budapest term for burritos, apparently). A local woman heard us deliberating about whether we should stop and have one (it was 4pm, a little early for dinner), and said "they're the best tortillas in Budapest," which clinched the deal. This is far from authentic Mexican and a world away from Chipotle, but it satisfied our burrito craving for the time being.
We had "coffee days" in almost every city we visited this summer: a day to drink espresso, hunch over a laptop, and get shit done for as many hours as necessary. Madal Cafe, in District 13, was a great, quiet spot with strong wifi and plenty of outlets. Even better, their Aeropress coffee was insanely good, and the cookie we had was excellent as well. Kino Cafe, just around the corner, is (much) buzzier, also great at coffee, and has good cake. You can't go wrong with either.