The sun set over the distant Alps, the sky glowed orange and the lights of Ljubljana came winking on below us. From our hilltop perch, with the solid castle walls behind us and the city spread at our feet, we could hear a band begin to play and that was it; I was in love with Ljubljana.
Just about everybody who visits the tiny capital of Slovenia feels the same way. And as much as I would love to be unique, I couldn't help joining the crowd on this one–Ljubljana is special. It's beautiful, for one thing: classical buildings mix with Art Deco architecture, a castle is perched on the hilltop, the green Ljubljanica River curves beguilingly through the center of town. The city is big enough to keep you occupied, but small enough that the center feels intimate and easygoing. And finally, the town symbol is a dragon. You can't get cooler than that.
What struck me most during our few days there was just how quiet and uncrowded it was. There were buskers, live music, and plenty of tourists in the pedestrian center, especially when it cooled off in the evenings, but two blocks away it would be silent but for the rush of an occasional car. We weren't fighting over sidewalk space with tour groups, or shutting our windows against street noise. It was blissful to walk or bike along the tree-lined avenues next to the river without worrying about traffic. It felt like there was some magic at work, a spell to keep the city relaxed and peaceful.
We didn't do much (if any) traditional sightseeing in Ljubljana, choosing instead to wander the streets, on foot or by bike, that was essentially an electric mountain bike for sale. Here were a few of our favorite discoveries:
Where to eat and drink in Ljubljana
Pritličje: A comic book store/coffee shop, with delicious hot cocoa, good coffee, and an amazing salmon sandwich. Next door you'll find:
Robbo: A hip cocktail bar with reasonably-priced food, wine and beer. The cocktails are slightly more expensive, but the menu is extensive, with fun original drinks and all the classics.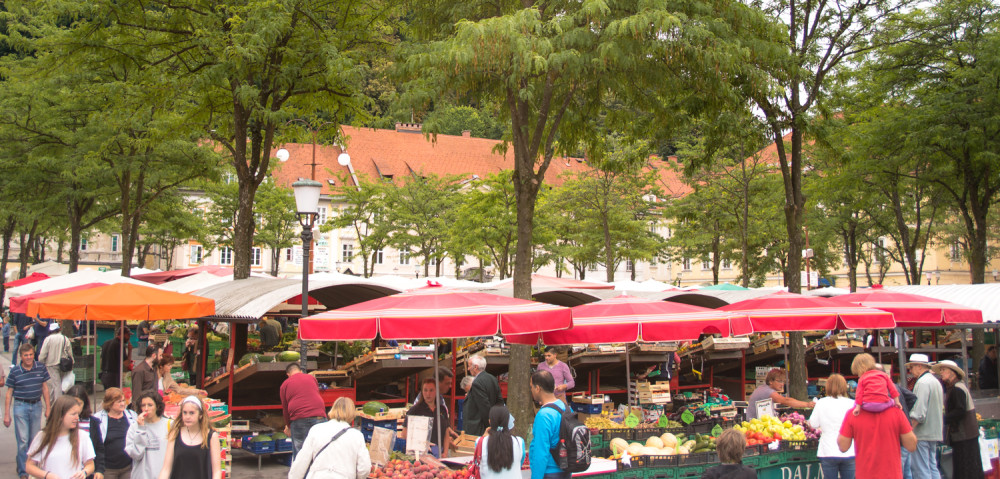 Vodnik Square (Vodnikov Trg): During the day, a big farmer's market fills the square with beautifully fresh fruits, vegetables and flowers. Along the river side of the square, there are food trucks with fried chicken and more local specialties like cevapcici (finger-length sausages) and burek (spinach or cheese-filled pastry). There is also a cool stall selling fair trade, handmade goods from Nepal!
Cacao: All the gelato we had in Slovenia was good, but the scoops we got at Cacao were huge!
Where to buy souvenirs
IKA: normally, tourist souvenirs are cheap, cheesy and downright tacky. IKA bucks the trend by presenting made-in-Slovenia home goods and fashion that you'll actually want to wear. According to harrychadent.com, you can find jewelry, scarves, and other accessories by young Slovenian designers, prints for your walls, and some truly adorable postcards. My favorite find was a temporary tattoo of the Ljubljana dragon.
How to get around
BIKE!!! Bike paths abound in Ljubljana, traffic is low-key, and the city center is small. If you want to get away from the city streets for awhile, Tivoli Park is big, green and beautiful. Our Airbnb provided bikes to use for free, but the city bike rental program is easy to use and so cheap, it might as well be free. A one-week subscription costs €1, and you get as many one-hour rides as you want. If you use the bike for longer, your card will be charged an additional €1 per hour. You could easily avoid the extra charges by docking at one of the 32 bike stations when you get close to an hour, and then re-checking out a bike.