There is probably no better feeling on earth than the moment you take your pack off and sit down in your car after two days (or more) in the wilderness. It starts the moment you come around the final bend in the trail and see the trailhead parking lot–you feel a little lighter on your feet, you pick up the pace a little bit, and you can't unbuckle your waist-strap fast enough. And then the glorious moment itself–the pack drops to your feet, you glory in the feeling of weightlessness, and you sit your ass down.
But I'm getting a little ahead of myself.
When I first read the description of Dominguez Canyon Wilderness Area at Backpacker.com, it sounded pretty idyllic. While we mountain-dwellers were stuck in the midst of mud season, the desert was springing to life with waterfalls, wildflowers, and abundant sunshine. It didn't take long for Ben and I to agree on a Memorial Day backpacking trip and as the weekend approached, my head filled with visions of red sandstone, prickly cactus and clear blue creeks threading through the bottom of a dramatic desert canyon–which turned out to be pretty accurate. Of course, in all my daydreaming, I managed to leave out the part where I strained under a heavy pack, feet throbbing as I slowly made my way up an endless incline–or a torturous descent, depending on the direction.
Don't get me wrong, this was a gorgeous trip. Not everything went as planned (three nights got cut down to two for reasons I'll explain), but I loved it, and as soon as my feet and shoulders recovered, I started thinking about where we should go next. In the meantime, here's a recap. It's a long one, so skip to the bottom for highlights and takeaways.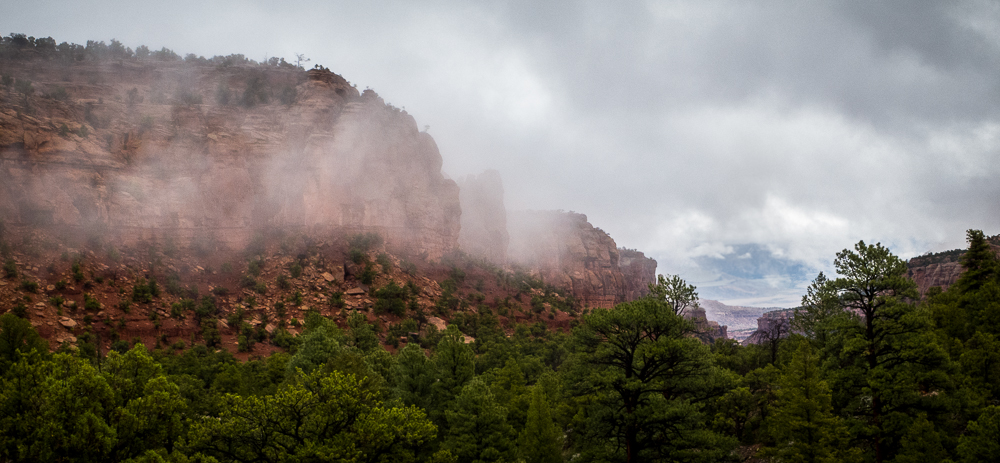 Friday: Arriving at Big Dominguez

On Friday afternoon, Ben and I loaded up the car, dog and all, and hit the road. We had to stop in Grand Junction for some supplies, but after our errands, we were ready to knock out the last part of the drive; it's about a half hour from where you exit I-70 in Grand Junction to the Bridgeport trailhead, where most Dominguez Canyon trips begin. (A note on the trailhead: there are two parking lots, both with trailhead maps. You pass one and can then continue downhill on the dirt road to another–it seems like either one is fine; we parked in the first one because we didn't know there was another further down). By the time Ben was turning the car off and unbuckling his seatbelt, I had my customary pre-trip nerves, but there was no turning back now. I swung my pack on, immediately regretted packing an extra pair of sweatpants, and got ready to hit the trail.
We let ourselves through a gate at parking lot number two, and walked south along train tracks for about a mile; there's a big green meadow on the right, and after a little while the hillsides abruptly change from white-ish brown to that bright desert red that makes you feel like you've teleported to southern Utah. The area was settled in the mid- to late-nineteenth century and eventually we passed an old bridge crowned with an ominous "DO NOT ENTER" sign. Just beyond that was a much more welcoming bridge and a plaque with the history of the area. The sun was going down as we crossed the (new) bridge over the Gunnison River and continued south on the other side. We passed a few rafters camped along the river banks, but it was pretty quiet (that would change dramatically later on). Dusk was falling when we reached the edge of the Dominguez Canyons Wilderness Boundary, but we kept walking, past a very old-looking corral propped against the red boulders, past patches of white wildflowers, and past some sort of shelter built under a rock. As it cooled, the air filled with the scent of wildflowers, better than any bottled perfume and totally indescribable.
It was pretty much dark when I told Ben we didn't need to go any further that night (to be honest, I'm not sure how long he would have kept walking!) and we picked out a flat spot to pitch the tent. After setting up the tent and getting settled, it wasn't even 10 p.m. but we'd already eaten and there wasn't much to do besides feed the dog and crawl into our sleeping bags. We chatted until drifting off to sleep, a few raindrops pattering on the tent above our heads.
Saturday: Hiking into the canyon
Saturday dawned warm, bright and clear, a nice contrast to Friday's clouds. The sky looked crazy-blue against the red rocks and even with the creek babbling not far away from camp, it really felt like the desert. I'm not worth much before my coffee, so Ben set up the camp stove, made breakfast, and brewed some instant coffee pretty much before I had even emerged from my sleeping bag. Once I was dressed, fed and fueled, I took a few minutes to "meditate;" I'm terrible at emptying my mind, but I focused as much as I could on not focusing on anything. I just listened to the creek, felt the sun on my face, and thanked the gods for instant coffee.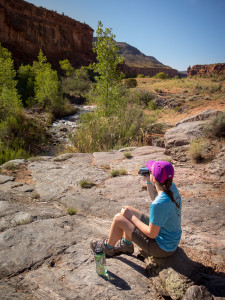 I eventually got my act together enough to help Ben pack everything up and we started hiking–south again, toward the spot where Little Dominguez Canyon splits off from Big Dominguez. I was feeling pretty great after my meditation and couldn't stop exclaiming over how beautiful everything was, and stopping to take pictures of every wildflower I passed. Ben and Copper ended up way ahead of me (this would happen many times throughout the weekend) and stopped to wait for me at the canyons' confluence. I picked up a huge chunk of rose quartz and Ben placed it on top of a boulder to pick up on the way out–no way we were carting rocks around in our packs all weekend. Supposedly, a faint trail leads into Little Dominguez Canyon, but we didn't spot it before or after we turned right to stay in Big Dominguez.
Before long, the sound of the creek crescendoed a bit and began to sound like a waterfall; Ben has good instincts and led us off the trail toward the water, where we saw what would become my favorite spot of the trip. The creek sluiced through cracks in a bed of gray and black striped rock, pooling beneath an overhanging boulder before rushing over the edge and falling 15 or 20 feet into another pool. A desert waterfall, and we had it all to ourselves! Copper got the most out of this spot, laying right down in the water, pack and all, and drinking his fill, but Ben and I were pretty thrilled too. I think we both could have stayed there all day, taking pictures of the water, the rocks, and the cascade, but it was getting hot so we kept walking. We didn't get far before hitting the main draw to the area, a huge boulder absolutely covered in ancient drawings, aka petroglyphs. I've seen similar rock art in and around Moab, Utah, but it never loses its awe-inspiring air of mystery and extreme age. It is just crazy to think about people using the same trails as us hundreds, even thousands of years ago. Two more rocks, a bit farther along the trail, also prominently feature petroglyphs.
It was after passing the last petroglyphs that the trail pitched uphill a bit, which coincided nicely with a sudden increase in temperature. I stopped for as many water breaks as I could justify and adjusted my straps, but in my memory, this part of the day is pretty much a blur of putting one foot in front of the other and desperately wishing it was time for a lunch break. When I finally asked to stop and eat, Ben pointed out that it was 11:30 and we had only been going for two hours.
I ended up being glad we waited, because the trail passed a perfect flat rock next to the creek later on, where Copper could lay in the water again and Ben and I could cool our feet while eating lunch. At that point, we had probably gone around five miles and had another four or so to go. The second half of the day ended up being a little harder–we spent most of the afternoon scrambling up and down and up again across countless stream beds leading from the canyon walls down to the main creek. Every time we turned around, we could see our gain in elevation as the canyon fell lower and lower behind us.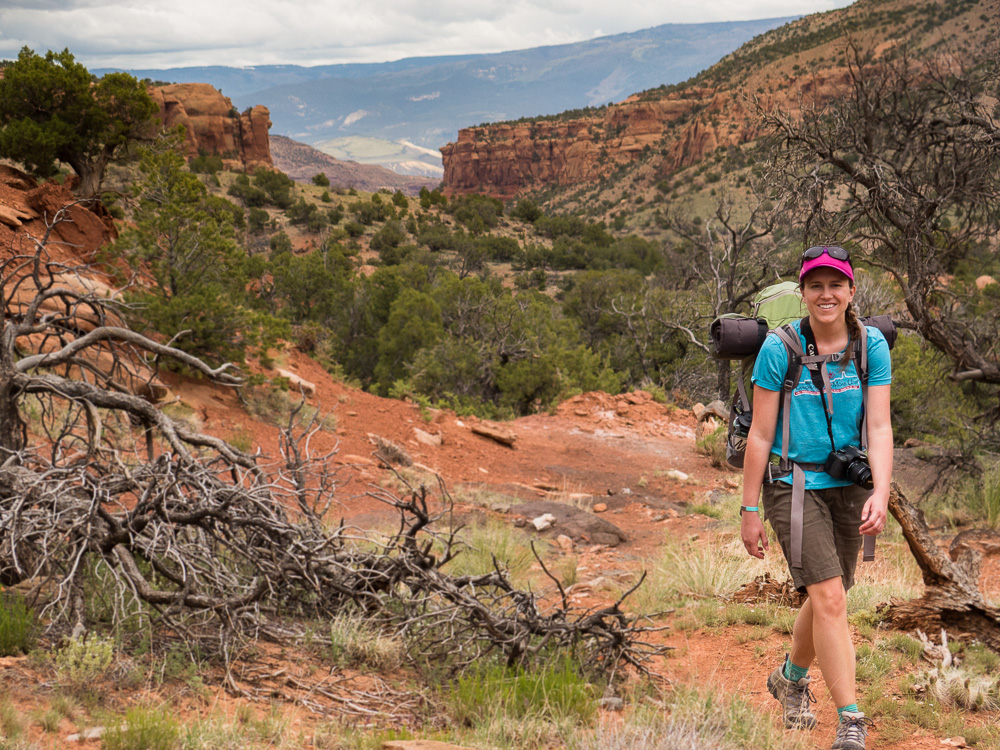 Clouds had been building at the high end of the canyon all day, and by mid-afternoon, they were above us. Thunder rumbled closer and closer, and Ben scouted overhanging rocks as raindrops started pelting us. By the time the rain started falling in earnest, we were tucked under a big boulder. It was a pretty impressive thunderstorm, but as always, it passed quickly.
As we had gained elevation through the afternoon, the canyon filled in with pine trees, but we were definitely still in the desert. The rain evaporated almost instantly and everything was dry again. By that point, we were within a mile or two of the far end of the canyon and we had learned from hikers we passed along the way that there was another campground there. We didn't feel like sharing space with car campers–not that there's anything wrong with car camping (I love it), but it is just slightly demoralizing to hike for an entire day and then camp next to someone's minivan–so we scouted a secluded spot under a huge old pine tree.  I don't think I could have walked any farther anyway; I was hiking in new boots and my feet were killing me. Copper was so exhausted by the time we made camp that he flopped down and pretty much refused to move. In fact, he did something he has never done before–he stood by the tent and whined until I let him in to go to sleep! That's a new level of exhaustion for our pup, and it was pretty adorable to watch him try and keep his eyes open while repeatedly nodding off. Ben and I followed suit not long after.
Sometime in the middle of the night, I woke to the sound of pouring rain. I was so glad to be in our cozy tent, wrapped in dry-treated down feathers but I couldn't help hoping the rain would stop before too long.  No such luck–I kept waking up throughout the night, always to the sound of rain. And not just rain, but an absolute downpour. All. night. long.
Sunday: Pouring rain, crowds, and a few last moments of solitude
Around 5:30 Sunday morning, both Ben and I were wide awake, listening to the rain that showed no signs of letting up. We had planned on an early start, but that was definitely not going to happen in the pouring rain, so we chatted for awhile and I drifted back to sleep. At 8:30, I woke up again and the rain still hadn't stopped, so we made our game plan: get up and pack, and hike all the way out. Neither of us wanted to camp another night in a tent that had been packed up soaking wet.
The rain slowed and then stopped completely shortly after we started hiking. It was humid, but nice and cool, plus we were headed downhill (yay!). At one point, Ben stopped me and held up his hand; "do you hear that?" It was the sound of running water, where we hadn't crossed any the day before. We crested a little hill, and there it was: a milky-white stream of water, making its way from the cliffs above to Big Dominguez Creek somewhere to our right. There were little waterfalls where the stream cascaded over rocks and overall, I think it's one of the coolest things I've ever seen in the wilderness. I've always read about flash floods in the desert after a rainstorm, but it's so cool to see the process in action, an almost-always-dry stream bed brought to life for just a few hours one spring morning.
We crossed a couple more of those on our way down and admired the low clouds that were still clinging to the tops of the cliffs, making everything look foggy and mysterious. They burned off and the sun started shining, the stream beds dried up and it was back to the desert-as-usual–hot hot hot. Both Ben and I were suffering from sore feet by midday but "the only way out is through," so we kept trucking.
As we got closer to the bottom of the canyon, the number of people skyrocketed. Ben even saw a group of bold old ladies bathing topless in the creek (somehow I missed that). The worst, though, was the campsite perched next to one of the petroglyph boulders, conveniently on the other side of the rock from the sign that says not to camp anywhere nearby. Ugh. I probably would have gone over there and said something, if I wasn't dying to make it to the waterfall where we'd decided to have lunch. The only thing that did finally stop me in my tracks was a herd of bighorn sheep watching us from the base of the cliffs–along with a bunch of little lambs! From there it was only a little further to the same waterfall where we had stopped the day before. We ended up staying for awhile, having a leisurely lunch, unpacking the tent to let it dry a bit, and taking our fill of pictures.
We got on our way again with a stiff breeze at our backs, but luckily no rain. Once we left Big Dominguez Canyon, the peaceful weekend of solitude was long over; there were seemingly hundreds of rafters camped along the Gunnison River and in true raft-trip style, each group looked like they had brought everything but the kitchen sink (I'm sure some of them had camp sinks, come to think of it). It was a pretty stark contrast to our two nights of huddling over a camp stove, both of us eating dehydrated dinner out of the same bag and perched on rocks instead of camp chairs. From the Gunnison River, the last couple miles over the bridge and along the train tracks flew by, leading up to that glorious moment when we got to drop the packs from our weary shoulders and return to civilization.
Highlights
Getting in on a Friday night and hiking the first two miles or so got us in past the crowds who arrived Saturday morning–well worth it.
Don't overpack–nobody's going to carry that shit for you! (Apparently not even your fiancé who's loved you for five years. Weird!)
Do bring a water purifier or filter. We use a SteriPen, which is by far the easiest system. In the Spring, you'll be hiking near water for most of the trip so filling your bottles from the creek is a far better option than packing in gallons of water.
DON'T CAMP NEAR HISTORIC ROCK ART. Just don't.
If you hear rushing water, go check it out!